Eating Out in Kleinbaai

The Great White House Restaurant

Cafés & Eateries Cape Overberg Cape Whale Coast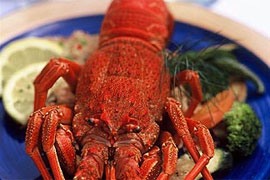 The Great White House Restaurant is named after the impressive shark that frequents the Gansbaai coastline. It is this beautiful hunter that lures tourists from all over the world to conquer their nerves and descend into the waters in a shark cage to witness the great whites from up close.
This restaurant is a spacious eatery that is very different from the average restaurant. In addition to light meals, sweet delights, tea and coffee, the Great White House Restaurant also offers clean rest-rooms including hot showers for chilly patrons returning from an exhilarating shark cage dive. The safety briefing is also conducted here.
The menu offers fresh seafood as well as traditional South African dishes. There is a variety of local wines that showcase some of the best of the Cape Winelands.