Western Cape and Cape Town Things To Do
Go Sandboarding (Cape Town Central)
Categories: Extreme Sports
Price group: R501 to R1000 per person (see other things to do in this price group)
Available in the following region(s): Cape Overberg / Cape Whale Coast
Stay Overnight: See Cape Town Central accommodation, in Western Cape
Address: Booking Office: Shop 10 Overbeek building, Corner of Orange and Kloof, Cape Town.
Telephone: +27 (0)21 422-0388
Opening hours: Booking essential. Half and full day, 10h00 to 13h30, 12h00 to 17h30 or 10h00 to 17h30.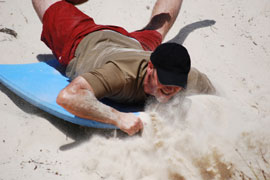 Africa's version of snowboarding, sand boarding is an exhilarating sport taking advantage of South Africa's gradients and global gravity. An all over body workout this hobby also known as sand surfing is set in the rolling Cape dunes with white sand and golden sunshine.

The favourite playgrounds for this sport is a spot called Lost City in a Nature Reserve at Atlantis (40 minutes outside Cape Town Central) with breathtaking views of Table Mountain and the city; or the Silver Sands of Betty's Bay (an hours drive up the East Coast). Nothing beats the feeling of standing strapped to a sand board on top of a wind crafted sand dune with wide open spaces surrounding you ... okay well one thing beats the feeling, coming down the sand dune yeeeeeehhhhhaaaaaaa!

The textures of the sand create a different experience from snowboarding requiring an adjusted technique and modified equipment. Expert guides will have you flying down the dunes in no time, the soft sand will cushion a variety of wipeouts and after a good days sandoarding you may feel like a professional stunt master. Downhill Adventures are title holders at the Sand boarding World Championships and pro instructors using and providing only the best and safest sand-boarding equipment. Only fully imported, specially modified snowboards, boots and bindings are used, the boards are specially treated for optimum sand glide.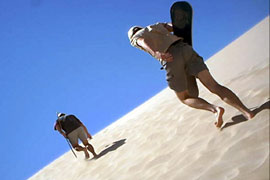 Beginners to experienced boarders are catered for with no experience in any kind of board activity required. There are no 'ski-lifts' so once you have walked up a dune in sand boarding boots carrying a sand board take a few minutes to take in the natural surroundings before swooshing your trail down the dune bank. Transfers to and from the meeting point in Cape Town centre (Downhill Adventures Office) is included in the cost as well as lessons, permits, equipment, refreshments and lunch. Departure time is 10h00 returning at 13h30 (half day) or 17h30 (full day), alternatively departure at 12h00 returning 17h30 (half day). Dress comfortably for exercise and hot weather, bring sunscreen, a cap, warm clothing for the trip home, thick socks, an even thicker sense of humour and camera equipment to take snaps of your moves for possible sponsorship.

Sand boarding packages (all included) start at R495 for a half day and can be done in conjunction with other adrenalin half day activities including surfing combo(R850), quad biking combo(R995) or skydiving combo (R2250). Makes for a nice response to 'How was your day?', 'Great thanks, I carved my initials on a private sand dune and then jumped out of a perfectly good aeroplane over Cape Town, you?'
Why Not Overnight?
Find Accommodation in Cape Town Central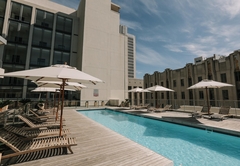 Three Cities Mandela Rhodes Place Hotel and Spa is situated right in the City Centre, surrounded by a number of fabulous bars, restaurants, the business district and close to many must see attractions. Enjoy our deluxe apartments offering modern living with a gentle blend of new and old. This is the perfect ...
Long Street Boutique Hotel is perfectly placed on the famous, vibrant Long Street strip - the axis around which the Mother City revolves and a popular must-visit for travellers from around the world. The rooms all feature coffee and tea stations, air-conditioning, a flat screen TV and satellite bouquet, ...
Related Pages
Travelling to Cape Town Central
• Cape Town Accommodation
• Cape Town Self Catering
• Cape Town Backpacking
• Blaauwberg Beaches