Western Cape Attractions
Greater Simonsberg Wine Estates
Greater Simonsberg is a wine region within Stellenbosch, which remains one of the world's top wine producing destinations. Being situated within the idyllic beauty of the Western Cape and its Winelands, Greater Simonsberg is ultimately beautiful, and the views never fail to impress locals and tourists alike.

The climate in this area is typical of mountainous terrain. Winters are very chilly and wet, while summers are hot and dry. The temperatures and conditions are more extreme than the coastal city of Cape Town, which is only a short drive away, because it does not have the moisture or breezes coming off the ocean.

Greater Simonsberg is one of three sub-routes of Stellenbosch. The other two are the Stellenbosch-Simonsberg pocket and the Helshoogte pocket. Each of these pockets has something distinctly unique about it and the wines that it produces. Greater Simonsberg is only five kilometres from the heart of the historical university town of Stellenbosch, to the north-east. Because of the beautiful countryside and the many different habitat types in the Greater Simonsberg area, it is home to a variety of faunal and floral species.

The vegetation varies from endemic fynbos, which, while pretty, is rather hardy; to lush green forests. This makes for perfect conditions for a number of bird species and other animals. Hiking, walking, cycling and picnicking in these surrounds is the perfect way to wind down after a day of exploring the vineyards and indulging in world-class wines.

For more information about this wine route see Stellenbosch Wine Routes or view the individual wine estates of this region below.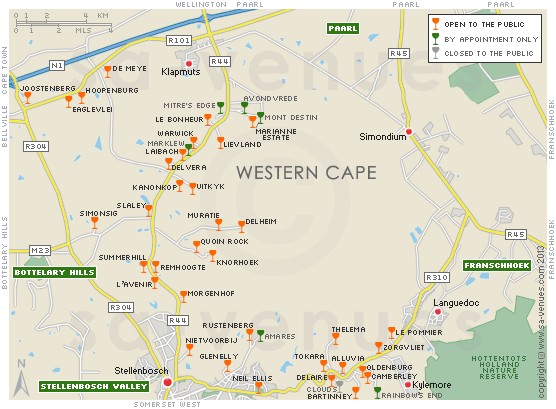 Click on the wine glass on the map above to view details about the wine estate, or view the comprehensive list below of all wine-related things to do in the Greater Simonsberg.
Western Cape Attractions
Where to Stay in Cape Winelands
The Cape Winelands region offers numerous overnighting options, including accommodation in Du Toitskloof, Franschhoek, Gouda, Groot Drakenstein, Klapmuts, Paarl, Pniel, Simondium, Stellenbosch, Tulbagh and Wellington, so whether you prefer to stay in an hotel, cosy B&B or a self catering holiday home, you're sure to find an establishment to suit your requirements.
Western Cape Attractions
Greater Simonsberg Wine Route: Wine Estates & Tastings

wine estates in the western cape
Combine your golfing holiday with a relaxing, revitalising visit to a health spa ... and enjoy Africa at its finest. View our exclusive collection of spas, wellness centres and health resorts in Cape Town.