Western Cape Attractions
Bottelary Hills Wine Estates
Nestled amidst the idyllic beauty of the Cape Winelands is the Bottelary Hills region, home to a number of acclaimed wine farms as well as to the Bottelary Hills Renosterveld Conservancy. This area (including Stellenbosch) was founded by explorer Simon van der Stel (the first mixed-race Governor of the Cape) in 1679. It was under his leadership that farms in the Bottelary Hills region were allocated.

When they discovered how well suited to vineyards this countryside was, it soon became blanketed with grape vines that produced fruits for the finest wines. Hence, it was at the turn of the 18th century that the wine industry began in Bottelary Hills. Today, it is thriving. Some of the well-known wine farms of the area include Hartenberg, Goede Hoop, Hazendal and Kaapzicht.

Bottelary Hills is a mere 40 kilometres from the heart of Cape Town, which continues to be one of the world's top tourist destinations. There is an endless variety of things to do and see in this major city centre, which balances well with the picturesque tranquillity of Bottelary Hills and the Stellenbosch area. The Bottelary Hills Wine Centre showcases the Bottelary Hills Wine Route (which is part of the larger Stellenbosch Wine Route).

World-class wines are on offer for tastings and purchasing. There is an information centre as well as a facility to enjoy wines by the glass, instead of having to purchase an entire bottle. This is an important resource for the local wine producers as they are able to expose their unique and renowned flavours to the world. Regular events (such as summertime wine tasting evenings) are held at this centre. The Bottelary Hills Wine Centre (part of the newly developed Devon Place) is on the corner of the R304 and M23.

For more information about this wine route see Stellenbosch Wine Routes (including Bottelary Hills) or view the individual wine estates of this region below.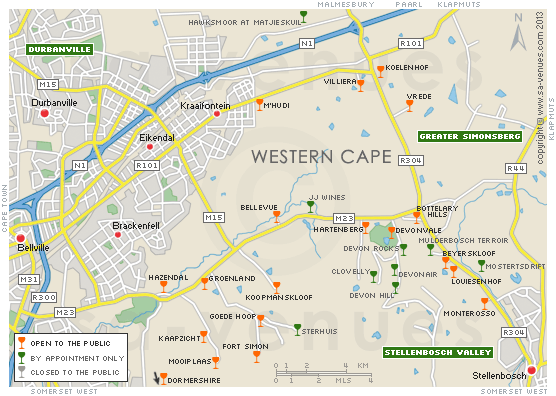 Click on the wine glass on the map above to view details about the wine estate, or view the comprehensive list below of all wine-related things to do in the Bottelary Hills.
Western Cape Attractions
Where to Stay in Cape Winelands
The Cape Winelands region offers numerous overnighting options, including Du Toitskloof accommodation, Franschhoek accommodation, Gouda accommodation, Groot Drakenstein accommodation, Klapmuts accommodation, Paarl accommodation, Pniel accommodation, Simondium accommodation, Stellenbosch accommodation, Tulbagh accommodation and Wellington accommodation, so whether you prefer to stay in an hotel, cosy B&B or a self catering holiday home, you're sure to find an establishment to suit your requirements.
Western Cape Attractions
Bottelary Hills Wine Route: Wine Estates & Tastings

wine estates in the western cape
Combine your golfing holiday with a relaxing, revitalising visit to a health spa ... and enjoy Africa at its finest. View our exclusive collection of spas, wellness centres and health resorts in Cape Town.