Western Cape Attractions
Klein Karoo Wine Estates
The name Klein Karoo (meaning "Little Karoo" in Afrikaans) comes from this being the smaller of its contemporary, the Great Karoo. The Klein Karoo is a long valley that is flanked by the magnificent Swartberg on one side and the impressive Langeberg and Outeniqua Mountain Range on the other.

Its beauty is a little unconventional, but no less breath-taking and impressive. It is a fairly arid area, littered with fleshy succulents and dwarf baobab trees. Every now and then, a lone sapling sways gently in the dry breeze.

The dry, harsh conditions of the Klein Karoo are actually ideal for the production of excellent wines. The summers are very hot and dry, while winters can hit major lows. The range of wines produced here is extremely varied as a result of this unique climate, and includes many wonderful dessert and fortified wines. Add pot-stilled brandies to this mix for even more diversity; just right for the discerning palate.

For more information about this wine route see Klein Karoo Wine Route or view the individual wine estates of this region below.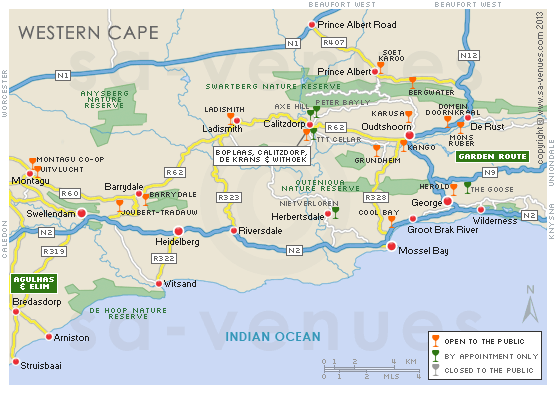 Click on the wine glass on the map above to view details about the wine estate, or view the comprehensive list below of all wine-related things to do in the Klein Karoo.
Western Cape Attractions
Where to Stay in Karoo
The Karoo region offers numerous overnighting options, including accommodation in Amalienstein and Zoar, Beaufort West, Calitzdorp, De Doorns, De Rust, Herold, Klaarstroom, Ladismith, Laingsburg, Matjiesfontein, Murraysburg, Oudtshoorn, Prince Albert, Rouxpos, Sanbona, Touws River, Uniondale and Van Wyksdorp, so whether you prefer to stay in an hotel, cosy B&B or a self catering holiday home, you're sure to find an establishment to suit your requirements.
Western Cape Attractions
Klein Karoo Wine Route: Wine Estates & Tastings

Did you know?
There are over 560 wineries in the Cape, divided into 4 main regions: The Breede River Valley, The Little Karoo, Coastal and Olifants River.
wine estates in the western cape
Combine your golfing holiday with a relaxing, revitalising visit to a health spa ... and enjoy Africa at its finest. View our exclusive collection of spas, wellness centres and health resorts in Cape Town.