Western Cape Attractions
Swartland Wine Estates
The Santam Swartland Wine & Olive Route is the official name of the route established in the Swartland in 1986, and describes the taste bud phenomenon of this scenic paradise. Set against the magnificent backdrop of the hills and mountains, gold-hued wheat fields, and the blue Berg River, this really is a romantic retreat and wine-enthusiast's Mecca.

There are about 20 wine farms along the Swartland Wine Route, each very different in their approach to wine making and the flavours that result from their methods and passion. Some are commercial wine merchants who produce wines for the larger market, others are exclusive little cellars, while still others are known as garagistes for their robust, honest flavours.

Historical farms using a combination of traditional and modern technology make for especially fascinating viewing. The tasting rooms and cellars are, in general, open to the public to tour and to experience the wines that hail from this beautiful Western Cape region. Some of these wineries include Allesverloren, Org de Rac Organic Wines, Riebeek Cellars and Swartland Winery.

For the best results, the vineyards have been planted close to the banks of the Berg River and at the foot of the surrounding mountains. As such, they are being grown under dryland conditions, in which they are thriving and producing flavours that are not created anywhere else in the world. Although the area was once known only for its robust reds and full-bodied dessert wines, it is now producing respected quaffing wines and ports.

For more information about this wine route see Swartland Wine Route or view the individual wine estates of this region below.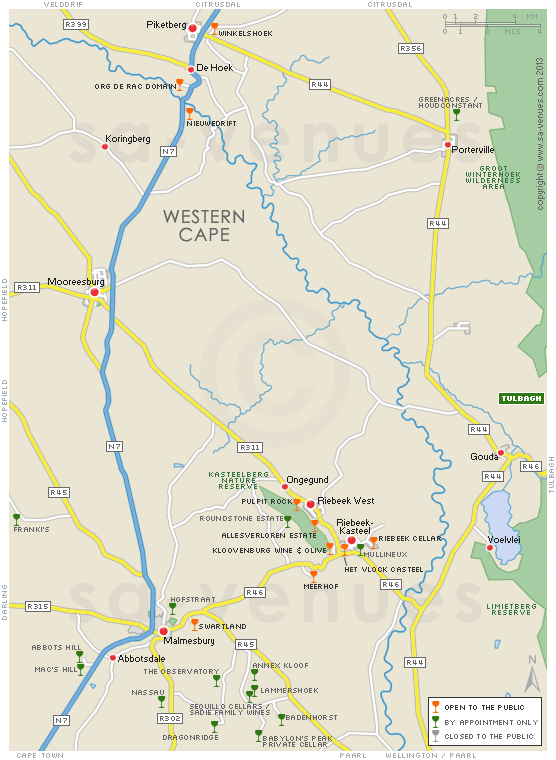 Click on the wine glass on the map above to view details about the wine estate, or view the comprehensive list below of all wine-related things to do in the Swartland.
Western Cape Attractions
Where to Stay in Swartland
The Swartland region offers numerous overnighting options, including accommodation in Eendkuil, Hermon, Koringberg, Malmesbury, Moorreesburg, Piketberg, Porterville, Riebeek Kasteel and Riebeek West, so whether you prefer to stay in an hotel, cosy B&B or a self catering holiday home, you're sure to find an establishment to suit your requirements.
Western Cape Attractions
Swartland Wine Route: Wine Estates & Tastings

Did you know?
There are over 560 wineries in the Cape, divided into 4 main regions: The Breede River Valley, The Little Karoo, Coastal and Olifants River.
wine estates in the western cape
Combine your golfing holiday with a relaxing, revitalising visit to a health spa ... and enjoy Africa at its finest. View our exclusive collection of spas, wellness centres and health resorts in Cape Town.