Western Cape Attractions
Olifants River Wine Estates
Just about 200 kilometres from Cape Town, near the picturesque town of Vredendal, lie the Olifants River and its wine route. The Western Cape Province of South Africa is known for being one of the world's best wine-producing regions, and Olifants River does not disappoint. However, it is on the opposite side of the Mother City to the Cape Winelands and, therefore, produces a different variety of wines.

This wine route extends between Citrusdal, along the river, to Lutzville Vineyards. With its exquisite combination of river and ocean views, set against the backdrop of rolling vineyards that seem to go on for miles, Olifants River Wine Route is an idyllic escape from city living as you explore the landscape and discover the flavours of some of its renowned wines. The surrounding fishing villages and sometimes-rugged terrain are almost magical in the way that they juxtapose the lush greenery of the Cape Winelands.

Some of the best known wineries along the Olifants River Wine Route include Lutzville Vineyards, Klawer Wine Cellar, Namaqua Wines, and Wilgenhof. Cellar tours and wine tastings are frequently offered by these farms, and will provide an insight into the makings of each delectable flavour and the workings of the vineyards.

For more information about this wine route see Olifants River Wine Route or view the individual wine estates of this region below.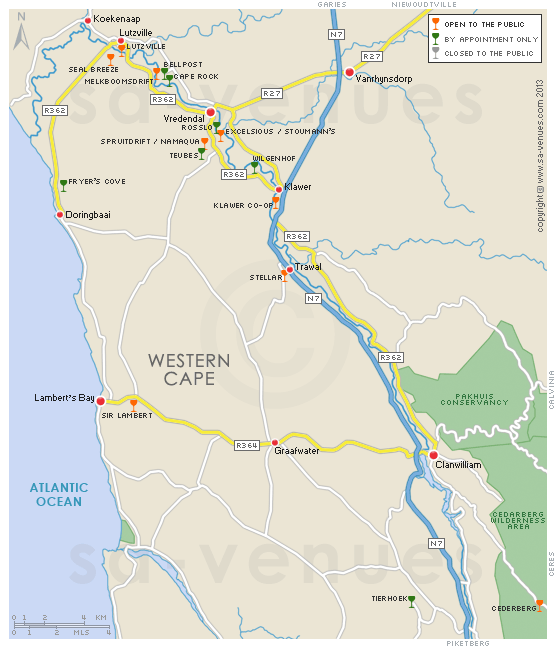 Click on the wine glass on the map above to view details about the wine estate, or view the comprehensive list below of all wine-related things to do in the Olifants River.
Western Cape Attractions
Where to Stay in Olifants River Valley
The Olifants River Valley region offers numerous overnighting options, including Cederberg accommodation, Klawer accommodation and Vredendal accommodation, so whether you prefer to stay in an hotel, cosy B&B or a self catering holiday home, you're sure to find an establishment to suit your requirements.
Western Cape Attractions
Olifants River Wine Route: Wine Estates & Tastings

Did you know?
There are over 560 wineries in the Cape, divided into 4 main regions: The Breede River Valley, The Little Karoo, Coastal and Olifants River.
wine estates in the western cape
Combine your golfing holiday with a relaxing, revitalising visit to a health spa ... and enjoy Africa at its finest. View our exclusive collection of spas, wellness centres and health resorts in Cape Town.