Western Cape Attractions
Worcester Wine Estates
Worcester is part of the magnificent Cape Winelands and falls under the municipality of the Breede River Valley. It is the largest town of the area and is situated only an hour's drive from Cape Town, which makes it fairly central as a holiday destination.

The area of Worcester has been producing wines for generations, and is nationally acclaimed for its Cabernet Sauvignon and Chenin Blanc, as well as the lesser known Columbar. In fact, the Worcester Wine Route contributes about one-fifth of the national vineyards and more than a quarter of the country's total wine and spirits production, making it a major player in this industry.

Worcester is surrounded by impressive mountains (including Elandskloof, Du Toitskloof, Slanghoek and Little Drakenstein). These towering rocky peaks not only give the entire area an unmistakable beauty that remains a little mysterious, but also plays an important role in the climate and, therefore, the crops and wines that result.

The climate here is more extreme, as the mountains prevent many of the equalising factors from taking effect. Summers are hot and dry, and winters are cold, wet and can sometimes bring snow on the mountain peaks. Spring and autumn are temperate and pleasant (perfect for wine tastings and outdoor lunches).

Well-known Wine Estates along the Worcester Wine Route include Slanghoek, De Wet, KWV Brandy, Brandvlei, Du ToitsKloof, and Opstal.

For more information about this wine route see Worcester Wine Route or view the individual wine estates of this region below.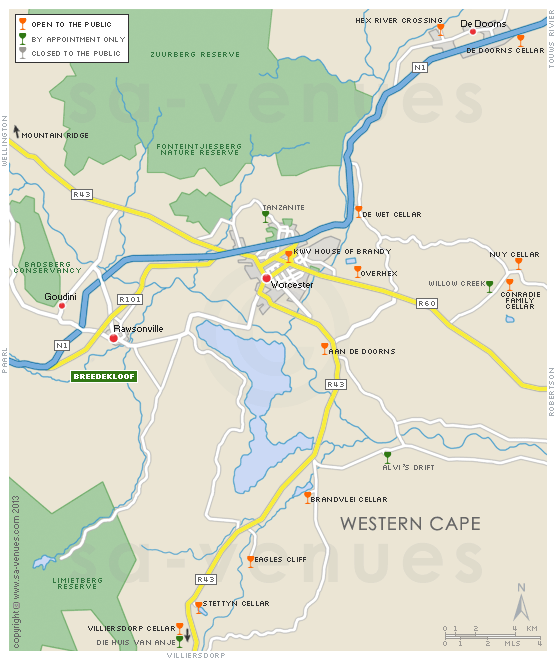 Click on the wine glass on the map above to view details about the wine estate, or view the comprehensive list below of all wine-related things to do in the Worcester.
Western Cape Attractions
Where to Stay in Breede River Valley
The Breede River Valley region offers numerous overnighting options, including accommodation in Ashton, Bainskloof, Bonnievale, Breeriver, Ceres, McGregor, Montagu, Prince Alfred Hamlet, Rawsonville, Robertson, Wolseley and Worcester, so whether you prefer to stay in an hotel, cosy B&B or a self catering holiday home, you're sure to find an establishment to suit your requirements.
Western Cape Attractions
Worcester Wine Route: Wine Estates & Tastings

Did you know?
There are over 560 wineries in the Cape, divided into 4 main regions: The Breede River Valley, The Little Karoo, Coastal and Olifants River.
wine estates in the western cape
Combine your golfing holiday with a relaxing, revitalising visit to a health spa ... and enjoy Africa at its finest. View our exclusive collection of spas, wellness centres and health resorts in Cape Town.