Western Cape Attractions
Robertson Wine Estates
The Robertson Valley has lovingly been dubbed The Valley of Wine and Roses as a small testimony to its unadulterated beauty. Having been officially founded in the mid-19th century, this beauty is only enhanced by a deep sense of history and heritage. The natural splendour and variety of this area lends itself to outdoor activities. Hiking, walking, cycling and horse riding in the surrounding mountains, with the exquisite backdrop of vineyards and clear African sky, is an unrivalled experience.

The growing of grapes for wines, as well as of other fruits, began just after World War I and agriculture has remained a major industry for the Robertson area. Today, there are almost 50 million vines in the Robertson Valley Wine Route, which produce more than 200 000 tons of wine grapes every year. The most common wines found along this wine route are Shiraz, Cabernet Sauvignon, Chardonnay, Sauvignon Blanc and Methode Cape Classique.

The towns of the Robertson Wine Route are Montagu (also famous for its dried fruits), Bonnievale, McGregor and Robertson. These towns are home to small, family-owned vineyards, successful wine farms and huge commercial estates. Well-known labels include Graham Beck, Van Loveren, Springfield, Major's Hill and Bon Cap.

Most of these wine estates offer wine tastings and facilities to purchase goods directly from the producers. Some also offer tours of the cellars, enlightening visitors to the fascinating wine-making process. The Klipdrift Brandy Distillery is situated along the Robertson Wine Route, and guarantees something a little different.

For more information about this wine route see Robertson Wine Route or view the individual wine estates of this region below.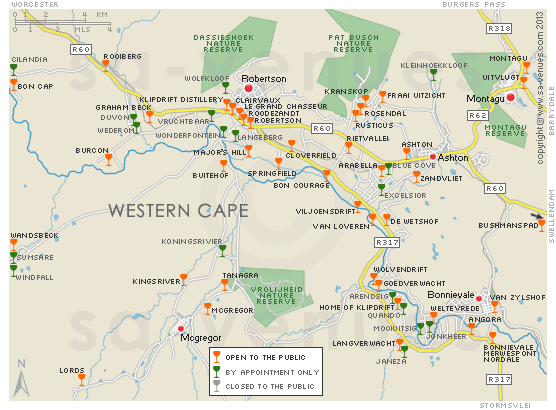 Click on the wine glass on the map above to view details about the wine estate, or view the comprehensive list below of all wine-related things to do in the Robertson.
Western Cape Attractions
Where to Stay in Breede River Valley
The Breede River Valley region offers numerous overnighting options, including accommodation in Ashton, Bainskloof, Bonnievale, Breeriver, Ceres, McGregor, Montagu, Prince Alfred Hamlet, Rawsonville, Robertson, Wolseley and Worcester, so whether you prefer to stay in an hotel, cosy B&B or a self catering holiday home, you're sure to find an establishment to suit your requirements.
Western Cape Attractions
Robertson Wine Route: Wine Estates & Tastings

Did you know?
There are over 560 wineries in the Cape, divided into 4 main regions: The Breede River Valley, The Little Karoo, Coastal and Olifants River.
wine estates in the western cape
Combine your golfing holiday with a relaxing, revitalising visit to a health spa ... and enjoy Africa at its finest. View our exclusive collection of spas, wellness centres and health resorts in Cape Town.