Western Cape Attractions
Paarl Wine Estates
Paarl is a delightfully historical town that lies just outside Cape Town in the Western Cape. It is part of the Cape Winelands, which have gained acclaim the world over for the fabulous wines that it produces as well as the natural beauty of the area. The name Paarl means "pearl" and reflects the iconic rounded shape of three granite outcrops forming the top of Pearl Mountain, visible for miles.

The historical aspect of Paarl continues to be one of its main tourist attractions. It is the third-oldest European settlement in the country and, with a population of around 200 000 people, the largest town in the Cape Winelands (which includes Stellenbosch, Franschhoek and Somerset West, amongst others). The architecture, museums and galleries all transport visitors to a world of yesteryear, when the Cape was a newly discovered gem and its beauty was slowly being revealed to European explorers.

However, another very important tourist attraction to Paarl is its wine route. This route combines world-class wines with breath-taking scenery to create an idyllic destination for just about anybody. The sweltering, dry summers and chilly winters give Paarl the perfect climate for an array of wine varieties. Whether red white or rosé, sparkling or dessert, Paarl's produce is consistently respected amongst wine connoisseurs the world over.

Some of the vineyards are small and intimate, while others are massive estates. To experience the Paarl Wine Route is to taste the Cape Winelands.

For more information about this wine route see Paarl Vintners Wine Route or view the individual wine estates of this region below.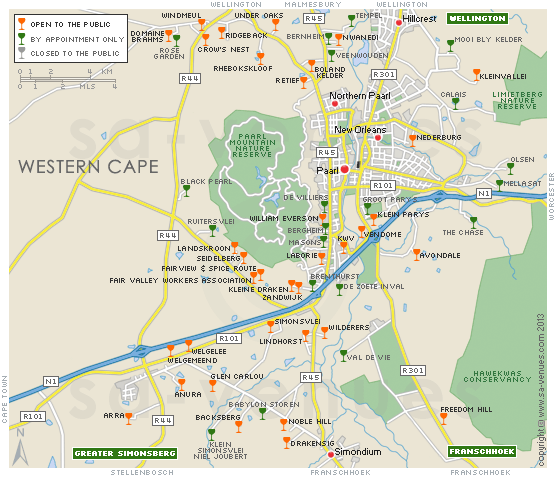 Click on the wine glass on the map above to view details about the wine estate, or view the comprehensive list below of all wine-related things to do in the Paarl.
Western Cape Attractions
Where to Stay in Cape Winelands
The Cape Winelands region offers numerous overnighting options, including accommodation in Du Toitskloof, Franschhoek, Gouda, Groot Drakenstein, Klapmuts, Paarl, Pniel, Simondium, Stellenbosch, Tulbagh and Wellington, so whether you prefer to stay in an hotel, cosy B&B or a self catering holiday home, you're sure to find an establishment to suit your requirements.
Western Cape Attractions
Paarl Wine Route: Wine Estates & Tastings

Did you know?
There are over 560 wineries in the Cape, divided into 4 main regions: The Breede River Valley, The Little Karoo, Coastal and Olifants River.
wine estates in the western cape
Combine your golfing holiday with a relaxing, revitalising visit to a health spa ... and enjoy Africa at its finest. View our exclusive collection of spas, wellness centres and health resorts in Cape Town.