Western Cape Attractions
Tulbagh Wine Estates
South Africa is abounding in little treasures, nestled amongst mountains ranges and in valleys that need to be explored to be appreciated fully. Tulbagh is one of these gems, as it lies secluded in the Tulbagh Basin, with mountains surrounding it at every turn. Due to this positioning, Tulbagh is susceptible to extreme weather conditions. Summers can reach upwards of 35 degrees Celsius, while winter snow on the mountain caps is common.

While these conditions may be a challenge for the locals, they are perfect for the hardy vines that grow throughout the Tulbagh Wine Route. There are cool summer winds, and a variety in the terroir and micro-climates, which makes for the ideal conditions for an array of wine types. The valley has plenty in the way of water supply, meaning that there is an ideal irrigation system in place. Therefore, there are also olive groves and fruit orchards to complement the vineyards for a palate sensation.

The wineries of Tulbagh range from intimate homely cellars that produce honest wines to boutique estates known for their award-winning labels. Twee Jongen Gezellen is known for being the first night harvesting estate in the country. Soon afterwards, a number of other local wine farms followed suit. With this profile of wine estates, Tulbagh remains a firm favourite among connoisseurs and the man-on-the-street alike.

For more information about this wine route see Tulbagh Wine Route or view the individual wine estates of this region below.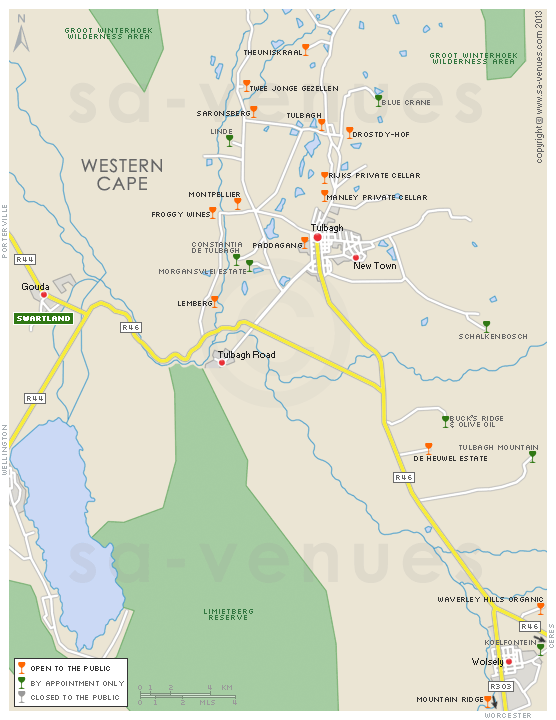 Click on the wine glass on the map above to view details about the wine estate, or view the comprehensive list below of all wine-related things to do in the Tulbagh.
Western Cape Attractions
Where to Stay in Cape Winelands
The Cape Winelands region offers numerous overnighting options, including accommodation in Du Toitskloof, Franschhoek, Gouda, Groot Drakenstein, Klapmuts, Paarl, Pniel, Simondium, Stellenbosch, Tulbagh and Wellington, so whether you prefer to stay in an hotel, cosy B&B or a self catering holiday home, you're sure to find an establishment to suit your requirements.
Western Cape Attractions
Tulbagh Wine Route: Wine Estates & Tastings

Did you know?
There are over 560 wineries in the Cape, divided into 4 main regions: The Breede River Valley, The Little Karoo, Coastal and Olifants River.
wine estates in the western cape
Combine your golfing holiday with a relaxing, revitalising visit to a health spa ... and enjoy Africa at its finest. View our exclusive collection of spas, wellness centres and health resorts in Cape Town.