Western Cape Attractions
Wellington Wine Estates
The Wellington Wine Route is home to national and international favourites like Douglas Green Bellingham, Diemersfontein, Oude Wellington, Welbedacht, Nabygelegen Private Cellar, and Jorgensen's Distillery. It is also a popular brandy route, with names like Wellington Cellar, Val du Charron Wines, Welgegund, and Welvanpas under its belt.

Wellington is located in a picturesque valley at the foot of the mammoth Groenberg Mountain, with the Kromme River flowing along its doorstep. Such perfect surrounds certainly make for very special scenery for even the most discriminating of wine connoisseurs. This backdrop creates a holiday vibe while only adding to the wonders of the delicious flavours.

For added convenience, the Mother City, as Cape Town is affectionately known, is only a 45-minute drive away. This implies that the other elements of the Cape Winelands (such as Paarl, Stellenbosch, Somerset West, and so on) are also within close proximity.

This area is an ideal wine-growing region owing mainly to its soils and the suitability of its climate. Grapevines are known to flourish under tough conditions, and Wellington has just the right combination of sunshine and rain to produce some really noteworthy wines and brandies. The hospitality of the locals means that visiting wine farms in Wellington becomes about making friends, delving into the wine-making process and enjoying delicious varieties together.

For more information about this wine route see Wellington Wine Route or view the individual wine estates of this region below.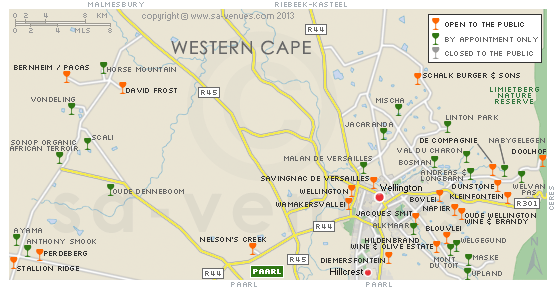 Click on the wine glass on the map above to view details about the wine estate, or view the comprehensive list below of all wine-related things to do in the Wellington.
Western Cape Attractions
Where to Stay in Cape Winelands
The Cape Winelands region offers numerous overnighting options, including accommodation in Du Toitskloof, Franschhoek, Gouda, Groot Drakenstein, Klapmuts, Paarl, Pniel, Simondium, Stellenbosch, Tulbagh and Wellington, so whether you prefer to stay in an hotel, cosy B&B or a self catering holiday home, you're sure to find an establishment to suit your requirements.
Western Cape Attractions
Wellington Wine Route: Wine Estates & Tastings

Did you know?
There are over 560 wineries in the Cape, divided into 4 main regions: The Breede River Valley, The Little Karoo, Coastal and Olifants River.
wine estates in the western cape
Combine your golfing holiday with a relaxing, revitalising visit to a health spa ... and enjoy Africa at its finest. View our exclusive collection of spas, wellness centres and health resorts in Cape Town.