Northern Cape Attractions
Northern Cape Wine Estates & Winelands
The Northern Cape is both the largest and the most sparsely populated of the South African provinces. It measures an impressive 360 000 square kilometres (making it bigger than the whole of Germany), but is home to only about 800 000 inhabitants. This leaves the vast majority of the countryside unspoilt, maintaining a natural integrity that is quite magnificent. The landscape ranges from savannah and scrub to arid flatlands and rolling red sand dunes. The north of this province is made up mainly of the Kalahari Desert, while the west is part of the Namaqualand, which is famous for its annual carpets of colourful blooms. The Orange River flows through the Northern Cape, playing an integral role in the irrigation system of the province.

With a completely different climate to the Cape Winelands, the Northern Cape produces a number of ranges of wines that boast unique flavours. The wine farms in the east have soils with a higher natural acid content and a lower pH level, which results in wines that are crisp and refreshing. The cellars in central and west Northern Province have more full-bodied wines, on the other hand. Famous labels from the area include River's Tale, Wozani and Oranjerivier.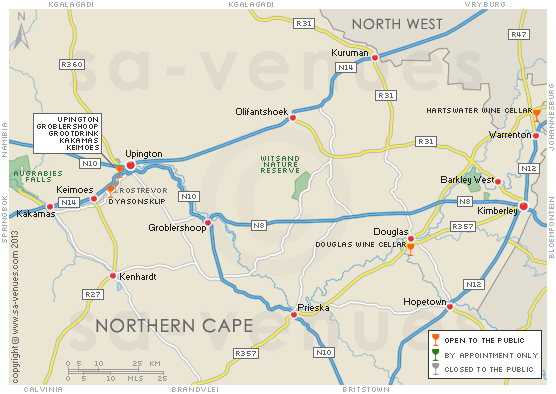 Click on the wine glass on the map above to view details about the wine estate, or view the comprehensive list below of all wine-related things to do in the Northern Cape.
Northern Cape Attractions
Where to Stay in Green Kalahari
The Green Kalahari region offers numerous overnighting options, including accommodation in Augrabies, Danielskuil, Groblershoop, Grootdrink, Kakamas, Kanoneiland, Keimoes, Kenhardt, Olifantshoek, Postmasburg and Upington, so whether you prefer to stay in an hotel, cosy B&B or a self catering holiday home, you're sure to find an establishment to suit your requirements.
Northern Cape Attractions
Northern Cape Wine Route: Wine Estates & Tastings

Did you know?
There are over 560 wineries in the Cape, divided into 4 main regions: The Breede River Valley, The Little Karoo, Coastal and Olifants River.
wine estates in the western cape
Combine your golfing holiday with a relaxing, revitalising visit to a health spa ... and enjoy Africa at its finest. View our exclusive collection of spas, wellness centres and health resorts in Cape Town.