Western Cape Attractions
Cape Agulhas Wine Estates
Cape Agulhas is particularly renowned for the unique geographical extremes that it presents, thanks to its positioning on the southernmost tip of Africa. This is also known as the precise point at which the icy Atlantic Ocean and warm Indian Ocean meet.

The Agulhas Municipality comprises a number of towns. These towns include Arniston, Bredasdorp, Elim (a UNESCO World Heritage Site and renowned wine-making region), LAgulhas (the southernmost town on in Africa), Napier, Struisbaai, Suiderstrand (a favourite holiday destination), Klipdale and Protem.

The quaint village of Elim boasts a unique terroir that has led to its producing some fascinating and one-of-a-kind flavours. As a result, it is home to most of Cape Agulhas' vineyards. The icy winds that come off the Atlantic Ocean are strong and dominant. These cool the ripening season down and slow this process, which results in a grape that has matured at a restful pace. For this reason, the Sauvignon Blancs of this area are already acclaimed worldwide, and the Shiraz and Semillon varieties are earning respect for their distinctive bouquets.

The official wine route of Cape Agulhas transports tourists to a charming part of the country and includes the area of Montagu. Although this is a relatively new wine route, its close proximity to other, better-established routes (such as the Hemel-en-Aarde Valley) is mutually beneficial. This association as well as the unique flavours emanating from the Cape Agulhas region is putting this small spot on the international map.

For more info about this wine route see Cape Agulhas Wine Route or view the individual wine estates below.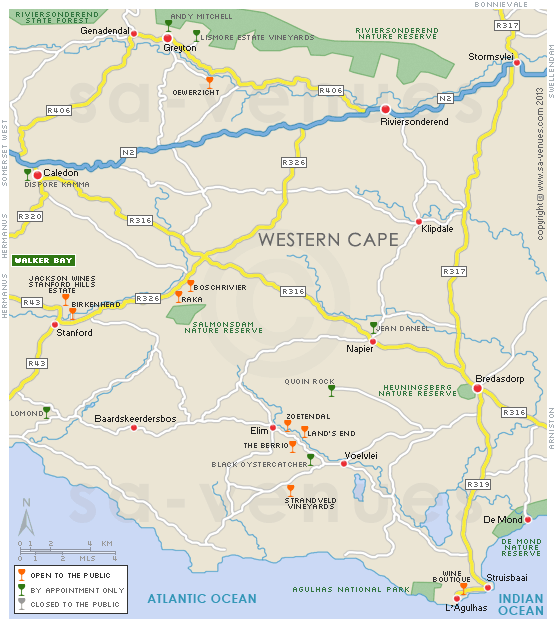 Click on the wine glass on the map above to view details about the wine estate, or view the comprehensive list below of all wine-related things to do in Cape Agulhas.
Western Cape Attractions
Where to Stay in Cape Agulhas
The Cape Agulhas region offers numerous overnighting options, including Arniston accommodation, Bredasdorp accommodation, Elim accommodation, Infanta accommodation, L'Agulhas accommodation, Napier accommodation, Struisbaai accommodation and Suiderstrand accommodation, so whether you prefer to stay in an hotel, cosy B&B or a self catering holiday home, you're sure to find an establishment to suit your requirements.
Western Cape Attractions
Cape Agulhas Wine Route: Wine Estates & Tastings

Did you know?
There are over 560 wineries in the Cape, divided into 4 main regions: The Breede River Valley, The Little Karoo, Coastal and Olifants River.
wine estates in the western cape
Combine your golfing holiday with a relaxing, revitalising visit to a health spa ... and enjoy Africa at its finest. View our exclusive collection of spas, wellness centres and health resorts in Cape Town.