Western Cape Attractions
Helderberg Wine Estates
Helderberg means "clear mountain" in Afrikaans and, when visiting the little town of the same name in the Western Cape, there is little confusion as to why this name was chosen. The jagged peaks of the surrounding mountains are humbling in their stature, looming protectively over this picturesque little settlement.

The Helderberg Region is part of the wine-producing hub of the Cape Winelands in the Western Cape. It comprises the Strand, Somerset West and Gordon's Bay, along with a few of the other small surrounding towns. Therefore, this area is the first seen as visitors travel over Sir Lowry's Pass and look down at the magnificent views below.

The natural beauty of the area is not limited to vineyards and mountains. These are also home to a range of animal and plant species. Travellers and locals that love nature will, no doubt, enjoy the serenity of exploring the reserves and trails in and around the Helderberg. Some of the best known wine labels that have their origin along the Helderberg Wine Route include Lourensford, Vergelegen, Yonder Hill, Ernie Else, Bilton, Ken Forrester, Eikendal and Alto.

Visiting these farms, as well as the many others that make up his fabulously varied route, will allow visitors the opportunity to learn more about the wine-making process, and then to sample some of the delicious flavours produced. Purchasing wines directly from the farm is a cost-effective way of enjoying world-class labels.

For more information about this wine route see Helderberg Wine Route or view the individual wine estates of this region below.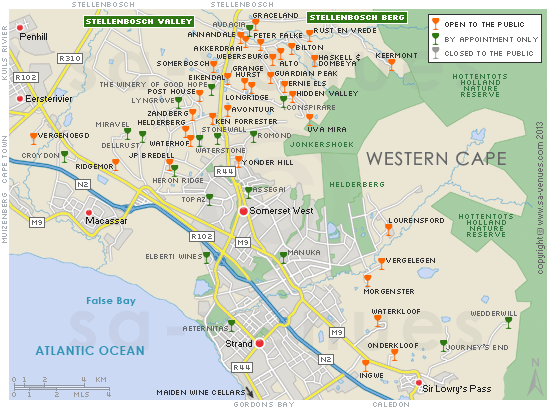 Click on the wine glass on the map above to view details about the wine estate, or view the comprehensive list below of all wine-related things to do in the Helderberg.
Western Cape Attractions
Where to Stay in Cape Helderberg
The Cape Helderberg region offers numerous overnighting options, including accommodation in Gordons Bay, Lwandle, Macassar, Sir Lowrys Pass, Somerset West and Strand, so whether you prefer to stay in an hotel, cosy B&B or a self catering holiday home, you're sure to find an establishment to suit your requirements.
Western Cape Attractions
Helderberg Wine Route: Wine Estates & Tastings

Did you know?
There are over 560 wineries in the Cape, divided into 4 main regions: The Breede River Valley, The Little Karoo, Coastal and Olifants River.
wine estates in the western cape
Combine your golfing holiday with a relaxing, revitalising visit to a health spa ... and enjoy Africa at its finest. View our exclusive collection of spas, wellness centres and health resorts in Cape Town.