Western Cape Attractions
Franschhoek Wine Estates
Having been dubbed the Gourmet Capital of South Africa, Franschhoek has a food and wine route that is beyond compare. This picturesque part of the Cape Winelands in the Western Cape promises to delight the senses in unique and exciting ways. Franschhoek has been one of South Africa's chief wine-making regions for centuries, and this history permeates every element of the town. Historical architecture adds to the experience of sampling some of the world's finest wines for a truly memorable time.

The valley itself is practically perfect in its natural beauty. It is green and lush, surrounded by jade-coloured mountains that give the whole town a feeling of being separated from the outside world. Enjoying a wine tasting or a tour of the many wine farms with this as a backdrop has a certain magical quality.

Pairing food and wine has always been an integral part of enjoying both aspects. Franschhoek is the ideal destination in which to do this, as olive, chocolate and cheese tastings are all part of the local experience.

Some of the wine farms of Franschhoek include Rupert & Rothschild Vignerons, Backsberg Estate Cellars, Bellingham, Boschendal Wines, Franschhoek Cellar, Graham Beck Wines, Haute Cabriere – Home of Pierre Jourdan, La Motte, Leopard's Leap Family Vineyards, Lynx Wines, Stony Brook and Vrede en Lust. Some of these farms date back generations and exude an old-world charm, while others are modern and chic. Getting a feel of a range of these farms demonstrates the sheer variety of the Winelands and its world-renowned produce.

For more information about this wine route see Franschhoek Wine Route or explore the individual Wine Estates below.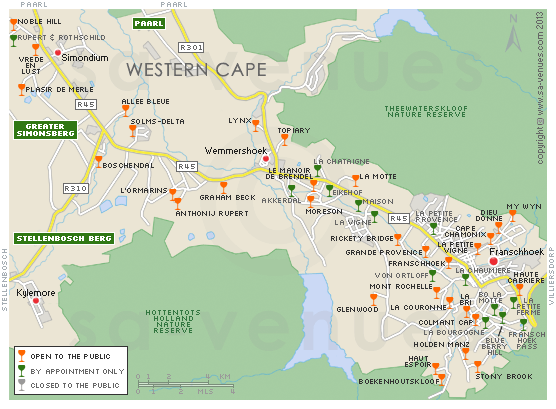 Click on the wine glass on the map above to view details about the wine estate, or view the comprehensive list below of all wine-related things to do in the Franschhoek.
Western Cape Attractions
Where to Stay in Cape Winelands
The Cape Winelands region offers numerous overnighting options, including Du Toitskloof accommodation, Franschhoek accommodation, Gouda accommodation, Groot Drakenstein accommodation, Klapmuts accommodation, Paarl accommodation, Pniel accommodation, Simondium accommodation, Stellenbosch accommodation, Tulbagh accommodation and Wellington accommodation, so whether you prefer to stay in an hotel, cosy B&B or a self catering holiday home, you're sure to find an establishment to suit your requirements.
Western Cape Attractions
Franschhoek Wine Route: Wine Estates & Tastings

Did you know?
There are over 560 wineries in the Cape, divided into 4 main regions: The Breede River Valley, The Little Karoo, Coastal and Olifants River.
wine estates in the western cape
Combine your golfing holiday with a relaxing, revitalising visit to a health spa ... and enjoy Africa at its finest. View our exclusive collection of spas, wellness centres and health resorts in Cape Town.