Western Cape Attractions
Constantia Wine Estates
The Constantia Wine Route in Cape Town comprises Buitenverwachting, Steenberg, Constantia Uitsig, Groot Constantia, Klein Constantia, Beau Constantia, Silvermist, Constantia Glen and Eagle's Nest. This is the first established wine growing region in the whole of southern Africa, dating back to the 17th century. Initially, sweet wines were produced here. These wines were of such a superior quality that they were demanded by European royals and aristocrats, Napoleon Bonaparte was one of these Constantia wine-lovers of old.

The Constantia Valley is the centre of this wine route, and is particularly scenic. With Table Mountain creating a magnificent backdrop, and hundreds of thousands of grapevines rolling down undulating hills, the vistas are simply exquisite from every angle.

Because of the extensive wine history of the Constantia Wine Route, there is a wine museum at the Groot Constantia estate. This offers guided tours and has been established to pay homage to and create awareness of the ever-growing wine industry here.

The wines produced in Constantia are recognised worldwide for being of the highest quality. For this reason, wine tastings and tours of the cellars are a must. These provide the opportunity to sample and purchase some of the best wines available as well as to learn more about the process from grape to table wine. Some of the wine farms have their own restaurants, which pair their delectable cuisine with their top-notch wines for a taste bud phenomenon.

See information about the individual wine estates below or view info about the actual wine route at Constantia Wine Route or view an overview of the region at Constantia Valley Attractions.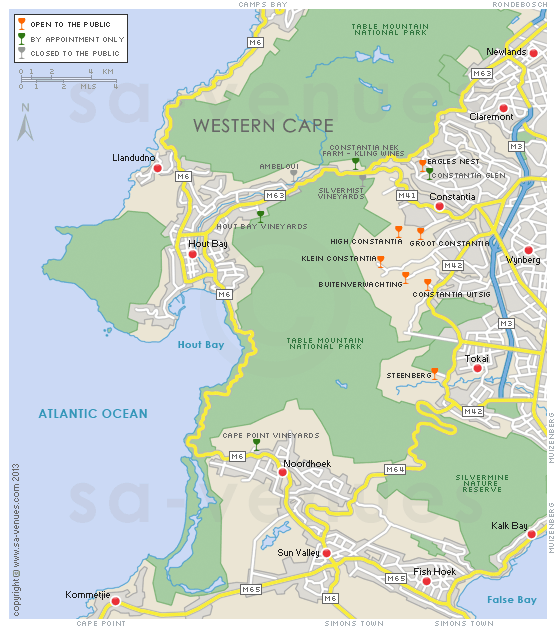 Click on the wine glass on the map above to view details about the wine estate, or view the comprehensive list below of all wine-related things to do in Constantia.
Western Cape Attractions
Where to Stay in Constantia Valley
The Constantia Valley region offers numerous overnighting options, including Bergvliet accommodation, Bishopscourt accommodation, Constantia accommodation, Diep River accommodation, Kirstenhof accommodation, Meadowridge accommodation, Plumstead accommodation, Tokai accommodation, Westlake accommodation and Wynberg accommodation, so whether you prefer to stay in an hotel, cosy B&B or a self catering holiday home, you're sure to find an establishment to suit your requirements.
Western Cape Attractions
Constantia Wine Route: Wine Estates & Tastings

Did you know?
There are over 560 wineries in the Cape, divided into 4 main regions: The Breede River Valley, The Little Karoo, Coastal and Olifants River.
wine estates in the western cape
Combine your golfing holiday with a relaxing, revitalising visit to a health spa ... and enjoy Africa at its finest. View our exclusive collection of spas, wellness centres and health resorts in Cape Town.