Eating Out in Swellendam

Rasondale Farm Stall and Restaurant

Cafés & Eateries Farm Stalls & Markets Cape Overberg

Where? Swellendam, on the N2 between Swellendam and Riviersonderend, Cape Overberg

How? Call +27 (0)28 512-3383

Overnight? Stay in Swellendam, in Western Cape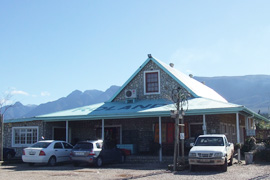 If you are looking for the perfect pit stop on the way back from the Garden Route to Cape Town (or vice versa of course) then make sure you stop in at Rasondale Farm Stall and Restaurant.
Located on the N2 between the Breede River and Riviersonderend it's a wonderful place to stretch the legs and have a breath of fresh air. The farm stall section sells flour, jams, nuts, biltong and other farm stall bits while the restaurant does a great looking burger, toasted sandwich or if you just want a sweet treat - try their muffins and enormous scones. The views of the mountains are a welcome break after a few hours in the car and the lawns in front of the outside sitting area are perfect for a stroll.
Additional Reading
For a first review read our article at Rasondale Farm Stall