About Company's Garden
Company's Garden is a large public park and botanical garden set in the heart of Cape Town, home to a rose garden, Japanese garden, fish pond and aviary.
Did you know?

The Company's Garden was proclaimed a National Monument in 1962, at which stage its size was (and still is) 3,2 hectares.
Roaming Company's Garden, past the back of Parliament and Tuynhuys, the President's official residence when in the mother city, is part of every visitor's schedule to Cape Town, and well worth the visit.
Lunch hour in Company's Garden is generally teeming with locals, who seek out the fresh air and beautiful views of Table Mountain. The tree-lined avenue, with its benches and resident squirrels, forms a pathway between the suburb of Gardens and the city centre, and there are a number of other important buildings within the garden - the South African Museum, the Planetarium and the South African Art Gallery included.
Company's Garden is the oldest garden in the country. It has its origins in Jan van Riebeeck's vegetable garden, which he grew to feed the original colony as early as 1652, but a little closer to the coast. In a bid to plant in more fertile soil, on ground sheltered from the wind, he moved his garden with its northern boundary on Wale Street, and this is where it stands today.
Company's Garden is intricately bound with the arts in South Africa. Not only is there an art gallery within the park, but it is also the venue of a number of festivals, including the Human Rights Concert and the Youth Festival.
The likes of South Africa's popular band "Freshlygound" has performed here, and there is a permanent craft market, which has invited some 20 crafters to market their products directly to the public from the gardens, stimulating job creation and attracting tourists to the city centre.
Popular Company's Garden
Overnight? Accommodation in Cape Town
Most major cities around the world offer city walking tours, and the Mother City is no exception. Cape Town Free Walking Tours makes the city walkable for everyone ...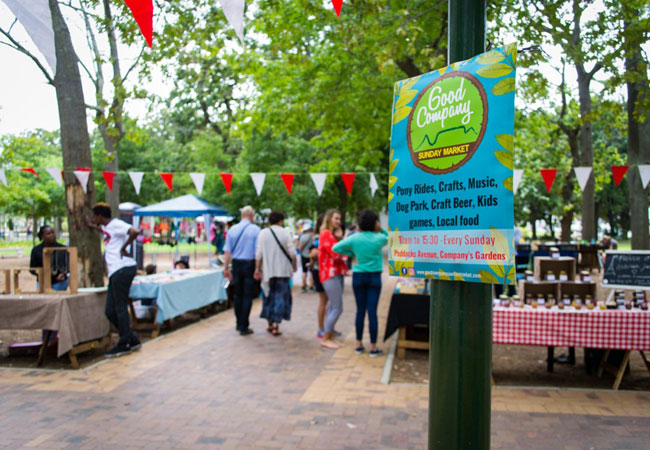 Need to Know
WhereCompany's Garden, 19 Queen Victoria Street, Central, City Bowl, Cape Town, Western Cape, South Africa
WhenOpen daily from 07h00 to 19h00 in Winter and 07h30 to 20h30 in Summer.
Telephone+27 (0)21 444-1901
OvernightStay in Cape Town Accommodation, Western Cape
Disclaimer
Please note, business details can change. While we endeavour to ensure all information provided by the service provider is correct at the time of publication, we do not assume any liability caused by errors or changes, such as price, cost, time, and location. Please check with the provider that the activity/business is still offered as described, before making any travel plans.
Feedback?
If this is your attraction, you can let us know if anything on this page is outdated or contains inaccuracies, by email. We regret, we do not have any other information, please contact the provider if you have questions.
Additional Reading
You might also be interested in
Attractions near
Cape Town Central