Things To Do in McGregor

Lord's Winery

Wine Tours & Tasting Breede River Valley Route 62

Where? 10 km on gravel road towards the moutain outside of Mc Gregor, Breeder River Valley, Western Cape, South Africa

When? Monday to Friday from 08h00 to 16h00. Weekends by appointment only.

How? Call +27 (0)23 625-1265

How much? Falls into price group R1 to R100 per person. Confirm with the provider.

Overnight? Stay at accommodation in McGregor, in Western Cape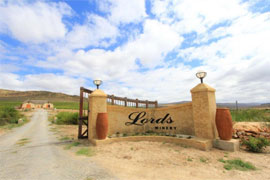 The lush, abundant McGregor Valley is part of the Breede River Valley of the Western Cape, South Africa, and is defined by its absolute beauty. It is home to the esteemed Lordís Winery, which has taken advantage of the local climate and soil to create wines that delight and tantalise. Although originally a family-owned fruit farm, Lordís is now managed by a group of passionate winos, who have made it their goal to produce superlative wines.
Lordís produces Pinot Noir, Chardonnay, Shiraz, Pinot Noir Rosť and a Mťthode Cap Classique (a stunning sparkling wine that makes every event special). In addition, it is well known for Nectar, which is a decadent natural sweet wine, best enjoyed after a hearty dinner with friends.

The surrounding area is rich in intriguing birdlife and beautiful vegetation. The indigenous splendour is breath-taking at times; and it is within these surrounds that the enjoyment of fine wines can be experienced.