Things To Do in McGregor

Hiking in and around McGregor

Hiking Trails Breede River Valley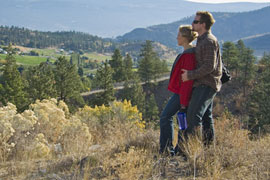 There are numerous hiking trails in the McGregor are that are well worth exploring. The Kleinberg trail for example, is within walking distance of town, and is an easy 2 hour walk in the surrounding hills. The Krans Nature reserve also offers several options, as does the Vrolijkheid Research station, which is also involved in the breeding of game.
The Rooikat and Boesmanskloof Trails, 13 and 14kms respectively, offer a more challenging hike, both through mountainous terrain. Dassieshoek Nature Reserve offers a 2 day hike, as does Genadendal, or you can take the easy Waterfall hike to secluded, crystal clear rock pools.
For full details of these and other hiking trails visit the McGregor Tourism website on the link below: