Things To Do in Worcester

Brandvlei Cellar

Wine Tours & Tasting Breede River Valley

Where? Off R43, Worcester, Western Cape

When? Monday to Friday from 08h00 to 17h30
Saturday from 09h00 to 13h00

How? Call +27 (0)23 340-4215

How much? Price on request

Overnight? Stay at accommodation in Worcester, in Western Cape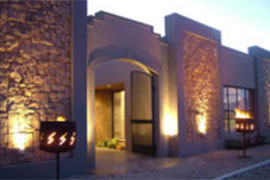 The Brandvlei Cellar was established in 1955 and was originally called Brandende Vlei and got its name due to it being the area around hot water springs. The cellar was once positioned beside the Brandvlei dam but after the dam was enlarged, the cellar moved to its current spot in the Breede River Valley along the R43 between Villiersdorp and Worcester.
They offer the following wines BC Wines Sauvignon Blanc 2012, BC Wines Chenin Blanc 2012, BC Wines Chardonnay 2012, BC Wines Bacchanté 2012, BC Wines Shiraz Rosé 2012, BC Wines Ruby Cabernet/Merlot 2011, BC Wines Cabernet Sauvignon 2011, BC Wines Hanepoot Jerepigo 2012 and BC Wines Grape Juice 2011. Because the Karoo soils are well suited to the following cultivars, new cultivations will focus on these; Sauvignon Blanc, Pinotage, Cabernet Sauvignon, Merlot and Shiraz.
Local farm employees are offered an introductory viticulture course by the estate as education and training is vital them as a company. Their labels have distinct lines on them which represent the surrounding mountain range Jonaskop which is often covered in snow during the winter and the eye on the range symbolises Draaivlei which lies beside the cellar. Pop in for a wine tasting or cellar tour.
To view more wine estates in the region see Worcester Wine Estates or see South Africa Wine Estates for a general overview and links to other wine producing regions.