About Tweede Tol
Tweede Tol is a Cape Nature camping and picnic site 16 kilometres from Wellington up the Bainskloof Pass, in the Limietberg Nature Reserve - a huge 102 000 hectare mountain, wildlife and fynbos reserve in the mountains.
Did you know?

Tweede Tol is part of the Limietberg Nature Reserve, a vast 102 000ha of mountains, wildlife and fynbos. The site is located at the original tollgate of the beautiful Bainskloof Pass, built in 1853.
Tweede Tol (second toll) is one of two tolls on the pass (the first is at the top of the pass just after the Bainskloof Trading post and is one of very few buildings to survive on The Neck of the pass).
It was built in 1851 as the original tollgate on the pass and is also known as Wolwekloof (wolf's gorge). The campsite is kept small – only 20 standard sites (another six are privately screened off) with a maximum of six allowed on each site, so it isn't surprising that it can feel rather busy – particularly over long weekends and during school holidays when daily picnic visitors arrive in a fair number (up to 120 a day).
And what makes it so popular is the incredible scenery and the exclusive use of the Wolwekloof River swimming holes (day visitors have access to the Witte River swimming holes), and Limietberg's hiking trails (although day hikers can access these trails too if they buy a permit).
From the campsite the 7.5km Rockhopper Trail runs upstream away from Tweede Tol with markers to indicate its start and finish – a challenging walk along the rather boulder-strewn riverbed of the Witte River (you need to choose between rock hopping, the occasional walking and swimming as a means to navigating the trail).
Book ahead for the trail and campsite to avoid disappointment. Campers agree that it is the Wowekloor River pools that make a visit to Tweede Tol so worthwhile.
Popular Tweede Tol
Stay? Bainskloof Accommodation
If you are feeling energetic, adventurous and up for a good challenge, then while in Bainskloof make sure you join the fun yet grueling rock-hopper trail. This ...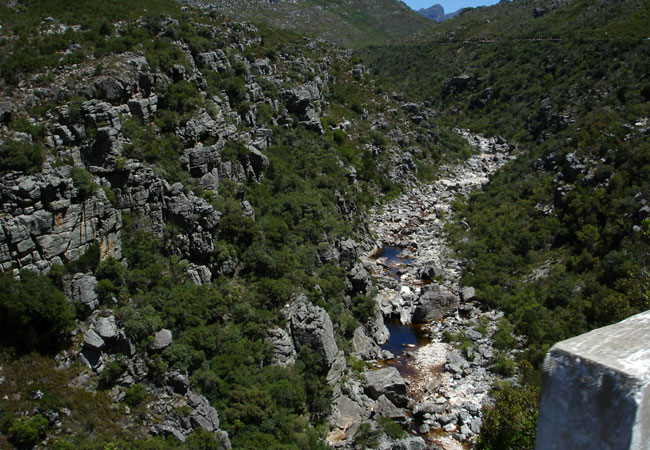 Stay? Bainskloof Accommodation
Start: Bainskloof Eerste Tol Finish: Bainskloof Duration: 9 km, to Junction Pool and back Fitness: moderate Our tip: the return can get very hot above ...
Need to Know
WhereTweede Tol is part of the Limietberg Nature Reserve, +/- 16km from the Bainskloof Pass sign outside Wellington, Cape Winelands, Western Cape, South Africa
WhenCampsites and hiking trails need to be booked in advance.
TelephoneCapeNature on +27 (0)87 087-8250
OvernightStay in Bainskloof Accommodation, Western Cape
Disclaimer
Please note, business details can change. While we endeavour to ensure all information provided by the service provider is correct at the time of publication, we do not assume any liability caused by errors or changes, such as price, cost, time, and location. Please check with the provider that the activity/business is still offered as described, before making any travel plans.
Feedback?
If this is your attraction, you can let us know if anything on this page is outdated or contains inaccuracies, by email. We regret, we do not have any other information, please contact the provider if you have questions.
Additional Reading
Attractions near
Bainskloof