Cape Town & Western Cape Tourist Attractions
Breedekloof Wine Route, Breede River Valley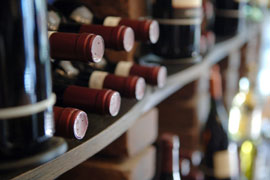 To view the individual wine estates on the Breedekloof Wine Route, see Breedekloof Wine Estates.

The youngest wine route in South Africa and just 90 km outside of Cape Town, the Breedekloof wine route lies in the Breede River Valley, which stretches from Gouda in the west, McGregor in the south, Montagu in the east and the Tankwa-Karoo National Park in the north.

Wine in this region was initially produced by co-operative cellars that focused primarily on producing sweet wines in bulk. Today individual wine growers create award winning red, dry white and sweet wine varieties and there are some 23 cellars to visit and scenery to take your breath away.

Route 62, which markets itself as the longest wine route in the world, includes the Breedekloof on its wine routes. For additional information about the Breede River Valley, attractions, things to do and events and festivals see Breede River Valley Attractions or view the wine estates at Breedekloof Wine Estates.
Breedekloof Wine Route
Stay Overnight
For accommodation in the Breede River Valley see:
• Ashton • Bonnievale • Bainskloof • Ceres • De Doorns • Malgas
• McGregor • Montagu • Rawsonville • Robertson • Tulbagh • Worcester

Or to see all accommodation in this region, visit Breede River Valley accommodation.
Cape Agulhas
Wine Estates in the Breedekloof Wine Route

The Western Cape region of the Breedekloof is renowned for its picturesque wine farms, of which there are more than 25. Worcester, the Breede River and Rawsonville are all part of the appeal of this mountainous region. The terroir and weather conditions of this area have proven perfect in ... more information

destinations / attractions in the western cape