Things To Do in Paarl

Kleinvallei / Calais Wine Estate

Wine Tours & Tasting Cape Winelands

Where? Waterfall Road, Paarl, Cape Winelands, Western Cape, South Africa

When? Please enquire.

How? Call +27 (0)21 868-3888

How much? Falls into price group R1 to R100 per person. Confirm with the provider.

Overnight? Stay at accommodation in Paarl, in Western Cape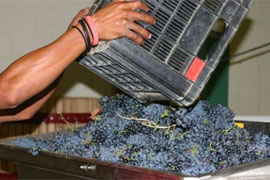 The Kleinvallei farm was bought by the Calais Wine Estate in 2006. Previously this farm was a privately owned boutique winery in the Cape Winelands. The two vineyards have joined forces and are specialising and producing Bordeaux style red wines. Paarl is a leading area in wine making in South Africa and this estate adds to this history. On the Calais estate the first grapes were pressed for wine in 1659 after a French Huguenot Jean Manje took ownership of the farm in 1692. This makes Calais is one of the oldest wine farms in the Paarl area.
To view more wine estates in the region see Paarl Wine Estates or see South Africa Wine Estates for a general overview and links to other wine producing regions.