Things To Do in Worcester

De Doorns Cellar

Wine Tours & Tasting Breede River Valley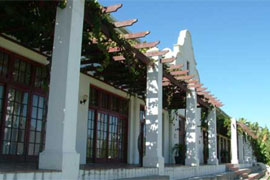 In the midst of the scenic Hex River valley and majestic mountains is De Doorns Wine Cellar. It's main focus is supplying wine and spirit companies in bulk, but there is a small amount of wines which they make available to the public. They have the longest harvest season in the world. It was established in 1968 by a group of table grape farmers from the Hex River Valley. The name of the town ' De Doorns' meaning 'The thorns' came from the surrounding acacia thorn trees and bushes which covered the farms when the settlers first arrived.
Danie Koen is the cellar master who cultivates the grapes to produce their fine wines. Their range consists of dry and semi-sweet wines, a beautiful Demi-Sec sparkling wine, excellent Cabernet Sauvignon, rich Muscadel, a full sweet sherry and a medium dry sherry.
To view more wine estates in the region see Worcester Wine Estates or see South Africa Wine Estates for a general overview and links to other wine producing regions.