Things To Do in Paarl

Mellasat Vineyards

Wine Tours & Tasting Cape Winelands

Where? Dekkersvlei, Klein Drakenstein, Paarl, 7623, Cape Winelands, South Africa

When? By appointment only.

How? Call +27 (0)21 862-4525

How much? Price on request

Overnight? Stay at accommodation in Paarl, in Western Cape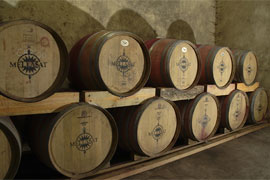 From the Paarl wine-making region of South Africa's Western Cape comes Mellasat Vineyards, a family-run vineyard owned by an English Family, The Richardson's. The life-long vision of Englishman Stephen Richardson, who grew up a Norfolk farmer with a passion for fine wine ignited as a teenager by his grandfather and the wines of Bordeaux, Mellasat now produces elegant wines itself and forms part of one the oldest farms in the Cape – Dekkersvlei – which dates back to 1693. At its heart, a boutique winery, Mellasat is positioned at the foot of the Klein Drakenstein Mountains and can add breathtaking scenery to its, equally superb, yield.
Cultivars grown on the farm are Cabernet Sauvignon, Shiraz, and Pinotage together with the whites of Chenin Blanc, Tempranillo and Chardonnay, all take full advantage of the farms unique "terroir." The wines of Mellasat have consistently proven themselves, taking accolades vintage after vintage which is line with the vineyards ethos of distancing themselves from the "volume" producers of the industry and focusing on quality, adding to the reputation that South African wines hold.
So take a trip and enjoy the wines that Mellasat offers. You can find Stephen himself on the farm most of the year, he does however head back to England once in a while to touch base with his farm and friends in Norfolk.
To view more wine estates in the region see Paarl Wine Estates or see South Africa Wine Estates for a general overview and links to other wine producing regions.