Boekenhoutskloof wine estate produces a couple of well-known wines - The Wolftrap, Porcupine Ridge and The Chocolate Block. It lies in the farthest corner of the Franschhoek valley. The farm has been here ...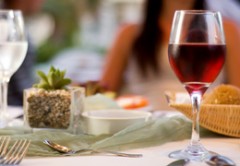 Franschhoek Wine Valley Food and Wine Route includes the restaurants and wine estates that fall into the Franschhoek valley, even if these borders have relaxed somewhat to include the R45 between Klapmuts and ...
If you are even vaguely into cars, then the Franschhoek Motor Museum is worth a visit. Over 400 vehicles that range from the Beeston Motro Tricycle (1898) to the 2003 Ferrari model, there is something to make ...
Completely closed off from the rest of the world on its eastern flank by the Franschhoek Mountains, the town of Franschhoek is accessible via only two routes: Route 45 from either Stellenbosch or Paarl, or ...
Franschhoek has been one of South Africa's chief wine-making regions for centuries, and this history permeates every element of the town. Historical architecture adds to the experience of sampling some of the ...
The Valley of the Huguenots, as Franschhoek is also known, became home to a community of French Huguenots who fled their country from religious persecution. The Huguenots soon recognised that this valley had ...
The story of the Huguenot Memorial Museum is quite fascinating, and lends the building and its contents a certain charm and intrigue. In the 1700's, the Saasveld building was the home of Baron Willem Ferdinand ...
The Huguenot Monument is dedicated to the cultural influences that French Huguenots have brought to the Cape Colony after their immigration during the 17th and 18th centuries. The Memorial Museum neighbouring ...
Mont Rochelle Nature Reserve lies in part of the UNESCO Cape Winelands Biosphere Reserve on the Franschhoek Pass. Described by visitors as 'incredible' and 'beautiful', the reserve is extremely popular with ...
The Pearl Valley course is surrounded by the Simonsberg and Drakenstein Mountains and bordered by vineyards with The Berg River water hazard running through it. Pearl Valley Signature Golf Estate and Spa is ...