Garden Route Destinations
Still Bay, Garden Route
Once you've booked your Still Bay accommodation explore our pages for info on attractions and what to do in Still Bay.

The little seaside village of Stilbaai or Still Bay lies just off the N2 between Mossel Bay and Riversdale on an estuary where the Goukou River meets the Indian Ocean. Essentially a retirement village and holiday resort, the town has grown in popularity, due mainly to her tranquil and inviting setting away from the madding crowd.

Stilbaai enjoys a pollution-free, safe and peaceful setting with long stretches of white sandy beach, a temperate climate and a river navigable for some 15 km. The town lies along and around the banks of the Goukou River, with a magnificent estuary and safe and beautiful beaches on either side of the river mouth. One of these, Lappiesbaai beach, has been awarded Blue Flag status and is the only beach to claim this mark of distinction between Hermanus and Jeffreys Bay.

The village is thus very attractive to visitors seeking safe bathing, angling, wind surfing, kite surfing, sailing, canoeing and other pleasures on the water. Stilbaai has a rich marine life in the river estuary and a remarkably large variety of bird life attracted to the abundance of indigenous fauna and flora - Still Bay has no fewer than three Nature Reserves - Pauline Bohnen, Rein's and Geelkrans and is on the flower route.

A highlight of a visit to Stilbaai is the Noordkapper Hiking trail which follows the coastline to Jongensfontein, one of the two villages (the other is Melkhoutfontein) just outside Stilbaai, home to the descendants of the original fishermen of the area still involved in fishing and the building industry today.

Other hikes include:
• West Bank Route - an excellent trail for bird watching and fairly easy
• Pauline Bohnen Route - an average hike with views of the ocean and dune fynbos
• Lappiesbaai Beach Route, easy to tackle at low tide and great for whale watching in season.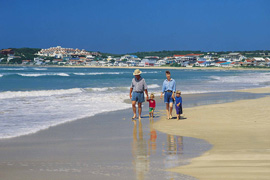 Another 'must do', whilst in Stilbaai, is the Soete Inval botanical garden in Melkhoutfontein. This is a first-of-its-kind in a re-developed township cultivated by the descendants of the Khoi-Khoi - traditionally outstanding gardeners. The garden has fynbos species from around the province and viewing in August/September is richly rewarding.
Stilbaai has a unique area on the shore made from limestone with a large number of natural springs, which first attracted the Strandlopers (beach walkers) who set up their rock and stone fish traps here. Strandlopers are thought to be outcasts of the Khoi community who survived by living off the sea and eating certain root vegetables and their fish traps are in evidence in Stilbaai today.
To crown it all, Stilbaai is on the migratory whale route, which boasts the highest gathering of whales in the world between July and October every year. A particularly good vantage point lies on a hill above the harbour. The village also has a unique species of eels, which are fed by hand.
Get the Scoop
Still Bay Reviews
Related Links
Featured Attractions in (or near) Still Bay

Garden Route Game Reserve situated in the heartland of the world famous Fynbos Botanical Route, welcomes you to the majestic beauty that fauna and flora has to offer. Come and view the Big Five (still in small family numbers) at Garden Route Game Reserve, in a malaria free environment, world renowned... more information
The new Garden Route National Park, established by SANParks and also known as GRNP, spans an impressive 121 000 hectares and includes the existing Wilderness and Tsitsikamma national parks, the Knysna Lakes area and roughly 52 000 hectares of newly proclaimed land. Still regarded as 'new' the ... more information

The Garden Route produces some fantastic wines. The cool, wet winters and temperate summers (with their own fair share of rains) make for the perfect conditions in which to cultivate a range of red, white and rosé wines. Popular wine farms include Jakkalsvlei Vineyards in the Langeberg ... more information

It is with great sadness that we need to report that the Outeniqua Choo Tjoe is no longer in operation. Information supplied here for historical purposes only: One of the few remaining steam trains in the country. Steam enthusiasts are in their element and everyone enjoys the splendid views of lakes, forests, beaches ... more information
Pretty and remote Rein's Nature Reserve is a private nature reserve that lies between Still Bay and Gouritzmond on a section of rocky coastline that has managed to remain both incredibly unspoilt and beautiful, its 3550 hectares filled with pristine fynbos and a sense of peace and stillness ... more information
Related Links
Things To Do in Still Bay

Where: Gouritsmond
How much (per person): On Request
Please Note: The bridge swing and bungy have been stopped due to the unsafe bridge structure. This was the original African Bungy ... more information

Where: Still Bay
How much (per person): Free
Visit the Stilbaai Tourism Bureau housed in the Palinggat Homestead in Stilbaai where you will see the only tame eels in South Africa fed in ... more information
Related Links
Events and/or Festivals in Still Bay


Location: Stilbaai
Duration: 4 days

Related Links
On Holiday in Still Bay
• Still Bay Accommodation
• Still Bay Hotels
• Garden Route Accommodation
• Garden Route Hotels
• Western Cape Accommodation

Visiting Still Bay?
Also see Things To Do in Garden Route to view activities by category, including watersports, sightseeing activities, arts & crafts and many, many more.