Things To Do in Still Bay

Go Surfing in Still Bay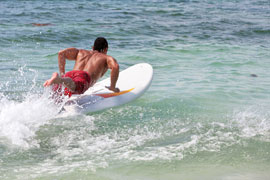 Still Bay is famous as a surfing destination. The rocky Morris Point Cape above the Still Bay habour is a the preferred spot for advanced surfers. On most of days the waves roll into the bay in high water-tunnels and then slowly wash out to shore. Some days dolphins and seals will join you in surfing the waves.
Even more spectacular is the rough coast of Jongestontain, where only the pros ride the waves. Amateurs will prefer the softer breakers of Lappiesbaai.