Things To Do in Sedgefield

Bush Pig Trail

Where? Sedgefield, Garden Route, Western Cape

When? Please enquire.
Distance is +/- 6.5km Durations +/- 2 hours.

How? Call Cape Nature on +27 (0)21 483-0190

How much? Price on request

Overnight? Stay at accommodation in Sedgefield, in Garden Route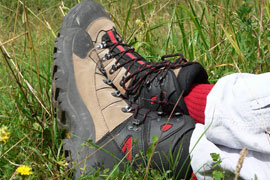 The Bush Pig Trail is a delightful hike situated just off the Garden Route in Sedgefield. This quiet little town is a gorgeously green retreat near the holiday hotspot of Knysna. Embarking on hikes and walks in this part of the country is truly satisfying, as it showcases some of the most beautiful parts of South Africa and, arguably, the world.
The Bush Pig Trail is a 6.5 kilometre route that begins with hoisting yourself across the river in a small boat. Then, the trail winds through magnificent milkwood forests, lush and dense with Western Cape foliage. Walkers are able to choose to go going back 1) along an inland route across the sand dunes, with stunning sea views, 2) through the reserve to Groenvlei, or 3) in the forests to Skimmelkrans Beach.
The Bush Pig Trail is manageable, even for those that are not fit, and takes about two hours to complete.