Things To Do in Sedgefield

Cape Clawless Otter Trail

Where? Goukamma Nature Reserve, Sedgefield, Garden Route

When? Daylight hours.
Distance: 6.5km Time: +/- 2 hours.

How? Call Cape Nature on +27 (0)21 483-0190

How much? Price on request

Overnight? Stay at accommodation in Sedgefield, in Garden Route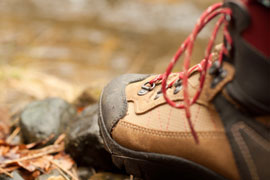 The Cape Clawless Otter Trail is a 6.5km walk in the Goukamma Nature Reserve, along the edge of the Groenvlei Lake.
The out-and-return route takes hikers through the forest, and along the beautiful lake, which is surrounded by razor-sharp reeds, so watch out for those! The trail is truly beautiful, offering a rewarding memory for visitors to the Sedgefield area. You might even spot an otter - or look out for their tunnels through the reeds where they enter the water.
For adventure-seekers and fitter hikers, try starting early and exploring the Blombos Trail too, which spans over a distance, amounting to a 20 km hike.