Eating Out in Sedgefield

Filo's Pub & Restaurant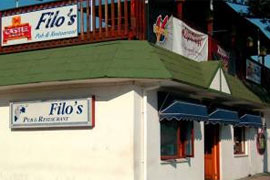 Filo's is the local pub in Sedgefield, situated on the N2 in the heart of Sedgefield., It has a lovely wooden deck above the bar where you can sit back relax and enjoy one of their sumptuous cocktails out in the open.
The food is delicious and while here, should definitely peruse the menu. The pizzas are a must try as are the burgers and the incredible weekly specials on offer. This is the ideal place to spend an evening with your friends and a great place for holiday makers looking for a nice evening.
Play a game of pool, hit the slot machines or if you are feeling brave, take on the 1 litre beer challenge. The staff are friendly, efficient and have a great sense of humour, making your visit that much more enjoyable and memorable.