Things To Do in Sedgefield

Cola Beach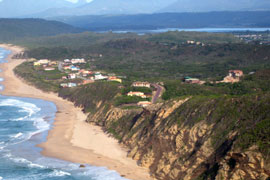 The Cola Beach in Sedgefield is one of the town's five beaches and offers an equally beautiful setting as the others.
This is a quiet beach, even during the peak holiday times so you can enjoy peace and tranquillity while catching a bit of sun. You access the beach from a long boardwalk that also offers lovely views as well as a bench to rest your legs on after the walk back from the beach.
Popular activities at this beach include surf and rock fishing at a number of spots.