Eating Out in Plettenberg Bay

Offthehook Seafood Cafe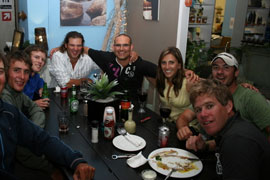 With its seaside location along the Garden Route and relaxed owner run ambiance, Offthehook is a favourite with all who discover it. Always filled with laughter, with a bustling atmosphere, Offthehook is a meeting place, relaxation stop and a family favourite offering a fantastic selection of dishes.
With an emphasis on seafood, as the name suggests, Offthehook offers a handful of delicious starters, such as the tuna carpaccio, cajun calamari and hake bites. Lunch mains include fish cakes and salad, seared tuna steak, chilli prawn noodle salad and good ol' hake and chips. For meat lovers, the delicious burgers, chicken burger and wraps will entice.
For dinner, we see the addition of dishes such as creamy mussels added to the evening menu, or seafood bouillabaisse, and 'the little bit of everything' platter, which includes fried calamari, grilled prawns, fish cakes and hake bites, served with rice and chips.