Eating Out in Plettenberg Bay

The Fat Fish Restaurant

Where? Hopwood Street, Milkwood Centre, Central Beach, Plettenberg Bay

When? Monday to Saturday from 11h30 to 22h00.
Colsed on Sunday nights.

How? Call +27 (0)44 533-4740

Overnight? Stay at accommodation in Plettenberg Bay, in Garden Route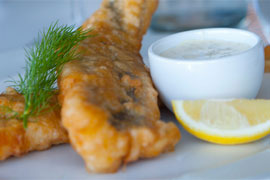 The Fat Fish is not only one of Plett's favourite seafood restaurants because of its location at Central Beach - the seafood is delectable and unforgettable. Walk straight off the beach and order a cocktail and saucy offerings off the tapas menu. Jumping straight in, we couldn't wait to sample the Wonton Prawns, Goujons of Hake, the Mussels Gratin and the risotto balls with gorgonzola dipping sauce.
Calamari tubes are pan-fried, with a parsley, lemon and caper butter sauce. Mains from the seafood menu include hake prepared in delicious ways you've never imagined; grilled linefish with clam sauce; Kingklip 'Saltimboca'; Norweigan Salmon on sesame and soya noodles and mussels in a leek cream sauce. You'll pinch yourself when you see what's on The Fat Fish platter for two - 12 grilled prawns, sruffed calamari tubes, linefish and mussels served with fragrant rice and sauces.
Soak up the vibey atmosphere, fine wine and extraordinary seafood.