Eating Out in Plettenberg Bay

Grand Café Plett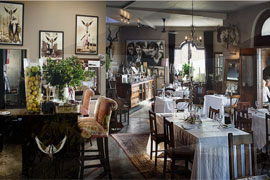 The elegant Grand Cafe is one of the most sophisticated restaurants and bars in Plettenberg Bay, with a deck overlooking the Keurbooms lagoon, and the mountains and ocean beyond it.
A small menu speaks of its boutique status, with unfussy-yet-sophisticated dishes, with a special 'Grand' twist. Begin with starters such as Tempura Prawns and delectable Fish Cakes, which pave the way for a mains such as the Sirloin Tagliata; Grand style linefish or a gourmet prego roll.
Pizza has other-wordly, with simple toppings that have a powerful impact, such as Prawn and Avo; Steak or Salmon - and pasta ranges from seafood to creamy chicken and basil.