Eating Out in Plettenberg Bay

The Med Seafood Bistro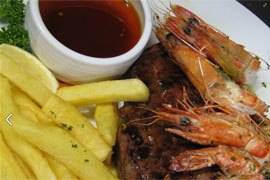 Based in the heart of Plettenberg Bay, The Med is a charming bistro-style seafood restaurant, fun by a passionate family of foodies. The Med has proven that it has staying power, with 20 years already behind it, continuing to attract locals and return holiday-makers who are drawn back time and time again for lip-smacking seafood and a romantic atmosphere.
Fresh, locally sourced ingredients are the inspiration behind every dish, with highlights such as the roasted whole fish with herbs, fresh oysters and bouillabaise with aioli topped croutons topping our must-have list. The succulent calamari looks out-of-this-world, while all your favourite seafood dishes are served with a delicious twist. For those veering more towards meat dishes, the slow-cooked lamb shanks come highly recommended, as does the roast duck with orange sauce. Pair it all with a Diner's Club award-winning winelist to perfect your experience at The Med Seafood Bistro.