Things To Do in Plettenberg Bay

Gap Circuit

Where? Robberg Nature Reserve, Plettenberg Bay, Garden Route

When? Please enquire.
Please note that trails may be closed at certain times of the year depending on the weather.
Trail Distance: 2.1km (+/-30 minutes)

How? Call CapeNature on +27 (0)21 483-0190

How much? Price on request

Overnight? Stay at accommodation in Plettenberg Bay, in Garden Route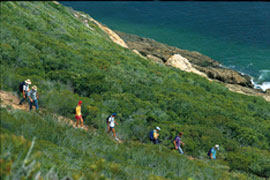 The Robberg Nature Reserve is only about eight kilometres from the holiday Mecca of Plettenberg Bay along the Garden Route. It is an aesthetically spectacular place, offering magnificent views and absolute peace and tranquillity. The Gap Circuit is the shortest walk within the reserve, covering only 2.1 kilometres. Therefore, it usually only takes about 30 minutes to complete, but is well worth it for the breath-taking views.
A very special feature of the Gap Circuit is the geological site, which provides evidence of the split of the cretaceous rock of Gondwanaland (a supercontinent that is believed to have split to form some of the modern continents of the world). This geological value adds something unique to the circuit.
Additional Reading:
If you are planning a visit to the Robberg Nature Reserve, you may find the following article useful: Rambling in Robberg.