Things To Do in Stellenbosch

Monterosso Wine Estate

Wine Tours & Tasting Cape Winelands

Where? R304, Koelenhof, Stellenbosch, Cape Winelands, Western Cape

When? Monday to Friday from 10h00 to 16h00.
Saturday from 10h00 to 12h00.

How? Call +27 (0)21 889-5021

How much? Price on request

Overnight? Stay at accommodation in Stellenbosch, in Western Cape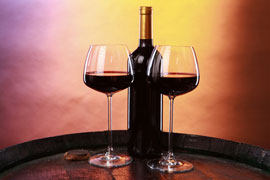 A man named 'Papa' Socrate always dreamt of having his own red wine and now in Stellenbosch, this has become a reality. Monterosso is run by the De Franchi family just off the R304. Papa Socrates was born in Monterosso al Mare in Italy and finds many similarities between the two places such as the mountains taking on a red colour at sunset, wine production and the Mediterranean climate. He bought the farm in 1977 and runs a Tuscan-styled cellar with a capacity for the 2000 vintage.
The estate balances its vines between red and white varieties. Their red varieties include Cabernet Sauvignon, Merlot, Pinotage, Shiraz and Sangiovese and whites include Chardonnay, Sauvignon Blanc, Semillon, Cape Riesling and Chenin Blanc. Grapes are delivered and also sold to other producers. The estates first produced a Cabernet Sauvignon / Merlot blend. The family's Italian dream is to produce wine made from the Sangiovese grape.
Some of their wines to sample include Monterosso Cabernet Sauvignon / Merlot 2007 made to pair with a variety of foods, Monterosso Sangiovese 'Socrate' 2009 with bitter cherry, strawberry and plum flavours and Monterosso Chenin Blanc (Old Bush wine) 2011 served as an aperitif or with food.
To view more wine estates in the region see Bottelary Hills Wine Estates or see South Africa Wine Estates for a general overview and links to other wine producing regions.
Please Note
Business details can change. All information is published in good faith as supplied by the providers. Please check with the provider that the activity/business is still offered as described above, before making any travel plans.