Eating Out in Mossel Bay

Sea Gypsy Cafe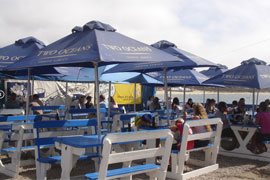 Sea Gypsy Cafe is located on Quay 4 at the Mossel Bay Harbour, and draws on its proximity to the ocean as the overriding theme for its menu. Not only do they serve some of the best fish and chips in town, they also have a boast-worthy view.
Attentive staff spill specials of the day, while suggesting the best way to order each dish, from beer-battered hake, through to melt-in-your-mouth calamari, creamy mussels and fresh oysters. If you enjoy vibe, atmosphere and delicious seafood, you'll love Sea Gypsy Cafe.