Things To Do in Knysna

Noetzie Beach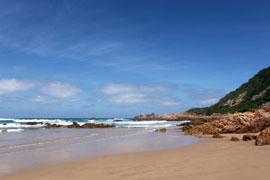 A very popular holiday spot for locals and a big attraction for tourists is Noetzie Beach, situated in Knysna on the glorious Garden Route.
The beach here has a magical air about it and it feels as though you have been whisked away to paradise.
This outstanding beach with beautiful sands has a lush green backdrop with three stunning castles set amongst these forest covered hills. The water is pristine and is safe for paddling, swimming and kayaking as well as surfing, whether you are a beginner or more experienced. Anglers donít mind spending hours here admiring the views while waiting for their catch. The opportunity of a romantic picnic or stroll along Noetzie Beach with your loved one shouldnít be missed.