About Knysna Forest
Across Africa are only a handful of sheltered, remote pockets of Afromontane forest; all that remains of huge tracts of ancient forest that covered large parts of the continent.
Did you know?

Described best by local author Dalene Matthee in her series of books set in the forest, Knysna Forest is beautiful, bestrewn with forest walks and hiking trails that allow visitors to explore its perimeters.
On the Garden Route is one such forest. Knysna Forest, in some places so dense it borders on impenetrable, is a marvellous mix of ancient trees, both local and exotic. Tree ferns, creepers, flowers and the elusive Knysna loerie, its call heard more often than it is seen, are also part of the forest.
The thick canopy of ironwood, stinkwood, Outeniqua yellowwood, real yellowwood, Cape holly, white pear, wild fig, milkwood, Cape beech, bastard saffron, assegai and kamassi trees covers 568 square kilometres between the Krom River and Mossel Bay, sprawling across the southern slopes of the Outeniqua Mountains.
Together with the Amatole forests, further inland, it makes up Africa's southernmost Afromontane forest. Today this thick, sweeping forest rich with bird life and a collection of animals that include the endemic Knysna dwarf chameleon is protected. But its history is not quite as tame.
Timber harvesting left the habitat degraded, for back then the forests were considered so big that nothing could exhaust them. The forest area was probably about 2 500 square kilometres before 1 900 square kilometres were destroyed by the combination of logging, development and a huge fire.
Many of the larger mammal populations like the buffalo, elephant, and possibly leopard, were largely destroyed. The elephant are of the forest's most famous inhabitants; there is continuous debate as to their whereabouts, if indeed they are about at all (a photographic sighting in 2014 raised hopes).
The last buffalo was shot in the forest in 1883, whilst of the roughly 500 elephants of 1860, only 4 remained by 1990. Any attempt at re-introduction to strengthen their numbers has failed. It does not help that their previous migration passage is no longer possible because of human development.
Explore the forest along demarcated walks and hikes.
Need to Know
WhereKnysna Forest, Knysna, Garden Route, Western Cape, South Africa
WhenBest during daylight hours.
Telephone+27 (0)44 382-5510
OvernightStay in Knysna Accommodation, Garden Route
Disclaimer
Please note, business details can change. While we endeavour to ensure all information provided by the service provider is correct at the time of publication, we do not assume any liability caused by errors or changes, such as price, cost, time, and location. Please check with the provider that the activity/business is still offered as described, before making any travel plans.
Feedback?
If this is your attraction, you can let us know if anything on this page is outdated or contains inaccuracies, by email. We regret, we do not have any other information, please contact the provider if you have questions.
Additional Reading
Also See These Attractions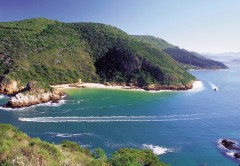 Nature Reserves
A Natural Heritage site, the Featherbed Nature Reserve in Knysna is an utterly unique privately owned reserve that lies on the Western Head of the famous landmarks known as 'The heads' in Knysna, accessible only by ferry. Many people make a day of it, ...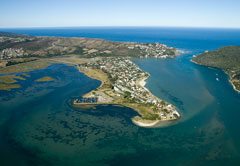 Lakes / Dams / Landmarks
The Knysna Estuary, better known amongst the locals as the lagoon, is one of South Africa's favourite vacation spots, thanks to the stunning views and many adventures that it offers. More than this, though, it is an important part of ...