Western Cape and Cape Town Things To Do
Stellenbosch Botanical Gardens (Stellenbosch)
Categories: Parks & Gardens / Wheelchair Friendly
Price group: Free (see other things to do in this price group)
Available in the following region(s): Cape Winelands
Stay Overnight: See Stellenbosch accommodation, in Western Cape
Address: Botanical Gardens, Cnr Van Riebeeck & Neethling Street, Stellenbosch.
Telephone: +27 (0)21 808-3054
Opening hours: Daily from 08h00 to 17h00. Closed on some public holidays.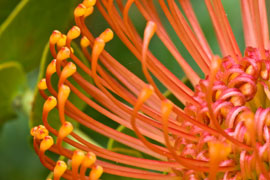 The Stellenbosch Botanical Garden is the oldest university botanic garden in South Africa. The Garden is beautifully maintained and includes three glass houses (tropical-, succulent- and karoo houses), Lotus lily / Koi fish pond, Japanese Garden, Herb Garden and arboretum.

The garden is widely regarded as an open-air laboratory and serves as a centre for training, science, conservation and recreation. For this purpose rare plants have been imported from all over the world. This Botanical Garden, a mostly undiscovered gem in the historical centre of Stellenbosch, gives joy to all its visitors. The garden is small and compact, but time and again visitors are surprised by the atmosphere and the variety of plants and plant products found here.

Additional Reading
For a first hand review and lots of photographs of the Gardens, see our article at Stellenbosch Botanical Garden.
Why Not Overnight?
Find Accommodation in Stellenbosch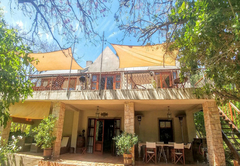 Nestled at the foothills of the Stellenbosch Mountain and offering a refuge from the hustle and bustle of everyday life, Aan de Vliet has a country atmosphere, panoramic views and lush indigenous gardens. Their luxurious, air-conditioned accommodation and personalised service makes Aan de Vliet the ...
The stately Beauclair manor is situated on the banks of the Eerste River, overlooking the statue of South African rugby legend, Danie Craven and close to the historic centre of Stellenbosch, with views of the stunning Stellenbosch as well as Simonsberg Mountain ...
Related Pages
Travelling to Stellenbosch
• Stellenbosch Attractions
• Stellenbosch Accommodation
• Cape Winelands Search By Map