Western Cape and Cape Town Things To Do
Skydive in Mossel Bay (Mossel Bay)
Categories: Extreme Sports / Sports & Leisure
Price group: On Request (see other things to do in this price group)
Available in the following region(s): Garden Route
Address: Skydive Mossel Bay, Mossel Bay Airfield, Aalwyndal, Mossel Bay, 6500, Garden Route.
Telephone: +27 (0)82 824-8599
Opening hours: 7 days a week, during daylight hours. Bookings essential.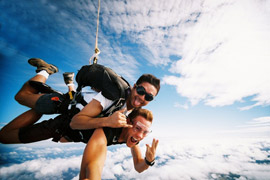 Skydive Mossel Bay offers you the experience of a lifetime! Do a tandem skydive from 10 000ft strapped to an experienced tandem instructor and enjoy the thrill of free fall on your 1st jump! No experience required.

After a short briefing we strap you into a tandem harness and you are ready start your adventure. 1st, we ascent to altitude in the aircraft and for 20 minutes you get a fantastic scenic flight over the bay area. Then it's time to jump out! Before you know it, the tandem master has you out of the aircraft and in free fall. We'll free fall at 200 - 290 kph for up to 40 seconds. While we "Body Surf" the wind, we can do controlled turns, speed diving, and burn up the sky.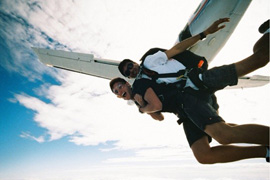 All too quickly you will find the parachute opening and your adrenaline charged free-fall transitions into a quite peaceful parachute decent, where you and your instructor can talk and share the moment with you.
During the 5-7 minutes it takes to reach the ground your instructor can provide either a sedate gentle ride to the ground or a more radical roller coaster experience demonstrating spins and stalls as he skilfully takes you to our landing area.
Videos / DVD of your skydive also available at an additional fee.
Certification courses are also available on selected weekends.
Please call to book you skydive in advance as seats are limited.
Why Not Overnight?
Find Accommodation in Mossel Bay
Bar-t-nique is situated high on the hill overlooking historic Mossel Bay, with its magnificent panoramic views of the harbour, Indian Ocean and ...
Santos Beach Flat is situated right in front of the famous Santos Beach. Activities right on your doorstep include swimming, fishing, snorkelling, ...
Related Pages
Travelling to Mossel Bay
• Things to Do in Mossel Bay
• Mossel Bay Attractions
• Mossel Bay Hotels
• Garden Route Accommodation