Cape Town & Western Cape Tourist Attractions
Postberg Flower Reserve, Langebaan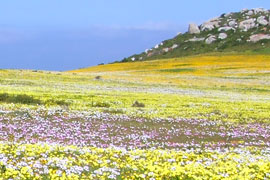 The Postberg Flower Reserve is not always available for you to visit. Even though it forms part of the West Coast National Park, this part of it is disturbed as little as possible so that, when spring comes, great swathes of flowers can erupt in virtually every nook and cranny of the reserve and reward everyone for their patience.

The route there is pretty easy to navigate. Simply head out of Cape Town along the R27 direction Langebaan. The entrance to the West Coast National Park will be fairly obvious, particularly as, during spring (August to October) there will more than likely be queues to get in. Going during the week is a better option at this time of year, if you can.

The added advantage to Postberg Nature Reserve's being closed for most of the year, is that there is game here that hasn't yet learnt to shy away. Zebra and wildebeest are common occurences and tortoises a permanent part of the landscape. Multi-hued flowers abound, and sightings of whales from Postberg make this time of year a real winner when it comes to placing a visit here on your itinerary.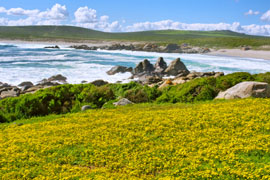 There are picnic and braai facilities too, and the beach itself is a wonderful place to rest awhile as the wind is not quite as frenetic or active at this time of year.
But it is the floral extravaganza that wins hands down. Yes, you can drive all the way to
Namaqualand
, and, if you time it properly, you should not be disappointed, but with Postberg you are almost guaranteed of feasting on a sight for sore eyes, with little effort beyond the 40 minute or so drive from Cape Town.
Where to Stay?
Find
Langebaan Accommodation
(with preview images and description) or consider
Langebaan Hotels
(ranging from 3-5 star). If you prefer to do it the self catering way, you will find our comprehensive list of
Langebaan Self Catering
options useful. Also see
Cape West Coast Accommodation
and
Cape West Coast Hotels
for overnight options in surrounding towns.
Additional Reading
For an in depth review of the Postberg Fower Reserve Trail and photographs see our article at "
The Postberg Flower Trail
".
Related Links
Featured Attractions nearby

The world's most accessible Cape gannet colony can be found on an island, linked to Lambert's Bay by a breakwater wall. Bird Island also gives shelter to thousands of cormorants and penguins, whilst Cape fur seals can still be found on the rocks on the sea side of the island. The three hectare Bird Island ... more information

Just inland from the secluded harbour of Saldanha Bay one finds the azure waters of the Langebaan Lagoon, focal point of the West Coast National Park. Thousands of seabirds roost on sheltered islands, pristine golden beaches stretch endlessly into the early morning mist and brooding salt ... more information