One is not even aware that there is a private game reserve on the far side of the West Coast National Park (to the right, roughly speaking, of the R27, 30 kilometres past the Yzerfontein turnoff, as opposed to ...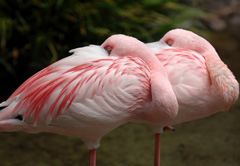 The West Coast stretches from Cape Town's northerly Atlantic suburbs to the coastal wetlands of the Olifants River. Whilst spring flowers have received the focus of tourism to this part of the coastline, it ...
The Golf Course at Langebaan Country Club is a links-type course, designed as a figure 8 winding around residential stands. Located on the unspoilt Cape west coast about 70 minutes drive from Cape Town, the ...
Langebaan Lagoon is a large salt water lagoon, regarded as a wetland of international importance, protected by the West Coast National Park (formerly called the Langebaan National Park), 100 km north of Cape ...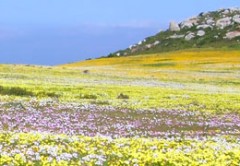 The Postberg Flower Reserve is not always available for you to visit. Even though it forms part of the West Coast National Park, this part of it is disturbed as little as possible so that, when spring comes, ...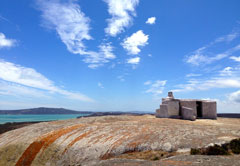 There are numerous reasons to include Seeberg Viewpoint on your visit to the West Coast National Park. One is the view of the little historical, stone cottage perched atop the granite boulders that overlook ...
For the visitor, the highlight of the West Coast Fossil Park is the 'live' exhibit of an ongoing excavation of early Pliocene fossils (fossils from 5 million years ago). There are daily guided tours that give ...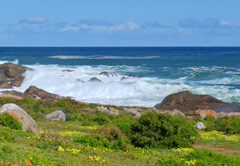 West Coast National Park Marine Protected Area is a collection of five Marine Protected Areas within the boundaries of the park formed to protect exposed and sheltered sandy beaches, rocky shores, a lagoon, ...
Just inland from the secluded harbour of Saldanha Bay one finds the azure waters of the Langebaan Lagoon, focal point of the West Coast National Park. Thousands of seabirds roost on sheltered islands, pristine ...