Eating Out in Paarl

Marcís Restaurant

Cafťs & Eateries Cape Winelands

Where? 129 Main Road, Paarl, Cape Winelands

When? Monday to Saturday for Lunch and Dinner
Winter Months from Tuesday to Saturday

How? Call +27 (0)21 863-3980

Overnight? Stay at accommodation in Paarl, in Western Cape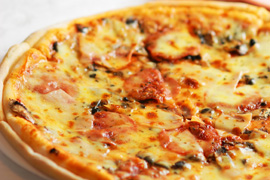 If you are looking for a relaxed atmosphere where the food is full of flavor and the ambiance is outstanding, then Marís Restaurant is the place to go.
Situated in the centre of Paarl, this fabulous restaurant has so much more than excellent service and an exquisite interior to offer. The food is absolutely exceptional.
There are some must try dishes on the menu, some being the paella, mezze with a Lebanese twist, the eisbein and the springbok shanks. The pizzas are mouthwatering and the dessert too. There is certainly something to suit every palate on Marcís menu.
Please Note
Business details can change. All information is published in good faith as supplied by the providers. Please check with the provider that the activity/business is still offered as described above, before making any travel plans.