Things To Do in Franschhoek

The Franschhoek Artisan Food Route

Farm Stalls & Markets Cape Winelands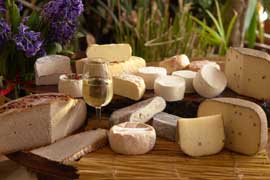 Get down to Franschhoek Wine Valley and explore the Artisan food Route. Here you sample and purchase award winning wine, exquisite cheeses, breads, olives, pestos and preserves, chocolates, coffees, herbs, chorizo, salmon, chillis, cakes and much more. All products are home made using traditional recipes and organic ingredients.
This makes for a fabulous afternoon out with friends and family. The incredible atmosphere and warm welcoming producers along with exceptional food, make this a route not to be missed.
For more information about the route, contact the Franschhoek Wine Valley Office.