Things To Do in Wilderness

Brownhooded Kingfisher Trail

Where? Wilderness, Garden Route, Western Cape

When? Self-issuing permits are obtainable at the entrance.
Distance: 5km

How? Call SANParks on +27 (0)12 456-5025

How much? Falls into price group R1 to R100 per person. Confirm with the provider.

Overnight? Stay at accommodation in Wilderness, in Garden Route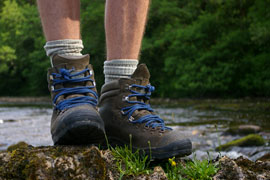 Meander through the Wilderness on the Brownhooded / Half Collared Kingfisher Trail which runs along the Duiwe River. This 7.2km walk is easy going and suitable for any fitness level. Walking down the path you will find yourself surrounded by a thriving river forest area. Often the path will cross over the river itself, take care when crossing as some stones and rocks may be slippery.
Eventually you will get to a stunning rock pool area that is also an ideal spot to chill out, relax or picnic. The birdlife in the area is abundant and if you are lucky may be able to spot the Cape Robin, Brownhooded Kingfisher, Cape Battis, Egrets, Fish Eagles and many more. Binoculars and cameras are a must on this trail with lots to look at and great photo opportunities all around you. When you get to the entrance you will be issued with a permit which may be charged for in peak seasons.